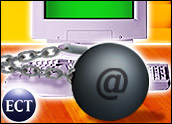 Sending the unwanted e-mail solicitations known as spam to Californians likely will become a lot more expensive, thanks to a new law that will fine spammers and advertisers as much as US$1 million per incident.
Described as the toughest law in the country, California's rule was signed into law today by Gov. Gray Davis, who warned spammers and advertisers against using e-mail solicitations as a means of promoting their products and services.
"The time has come for unscrupulous spammers to stop feeding our e-mail inboxes a daily diet of unwanted e-mail," Davis said in a statement. "California is sending a clear message to Internet spammers: We will not allow you to litter the information superhighway with e-mail trash."
Industry analysts downplayed the impact of the legislation, pointing to a more comprehensive approach that is needed to combat spam.
"It needs to be a combination of technology, legislation and court cases and increased market awareness and consumer education," Yankee Group analyst Paul Ritter told TechNewsWorld.
Advertisers Targeted
California's new law, authored and promoted by state senator Kevin Murray (D-Los Angeles), was driven by the ineffectiveness of existing state laws against spam, a Murray representative told TechNewsWorld.
He said laws already on the books target only spammers, who have proven to be difficult to punish because of their technical ability to elude law enforcement.
Based on the new law, advertisers that benefit from spam and are much easier to identify and hold accountable face the same penalties as spammers — the greater of $1,000 per e-mail or $1 million per spam campaign — in addition to attorney's fees if successfully prosecuted, Murray's representative said.
Toughness for Impact
The penalties also apply to California companies that send spam, which San Francisco-based Ferris Research estimates will cost corporate America more than $10 billion this year — primarily in lost productivity, help-desk support and consumed IT resources.
Forrester analyst Jan Sundgren, who said cost-of-spam figures are often dubious, told TechNewsWorld that the legislation goes much further to penalize spammers than federal laws under consideration.
Sundgren said that although spam is a major concern among businesses and the strength of the California law may bolster its impact, the legislation could be pre-empted by less severe federal spam laws.
Emotional Effects
Referring to a high number of inquiries about dealing with spam, Sundgren said it is difficult to gauge the emotional effect of the unwanted e-mail, which includes pornographic material.
"It's harder to measure the impact of offensive spam and the way it bothers people," he said. "They really get annoyed. How do you put a value on someone getting irritated?"
Sundgren added that California's law might cut down on the amount of spam in the state, but it also might serve to highlight the spam that succeeds in reaching Californians, which would no longer be lost in the huge amounts of spam sent to residents in the state.
Policing Policy
Yankee's Ritter said legislation such as California's — likely to draw fire on the basis of free speech and other grounds — is not always effective because it cannot be enforced, particularly as spammers increasingly are able to hide their tracks by moving their base of operations offshore.
Still, the Internet analyst said the toughness of the law will add to its impact, and Californians will probably see a slight decrease in the amount of spam they receive.
"If legislation is intended to accomplish something, there needs to be enforcement as well as penalties in it," Ritter said. "I think the legislation has bite."
Spam Fighters Still Needed
Stressing the need for a combined technology-policy defense against spam, Ritter said spammers probably will be able to work around the barriers placed in front of them.
The analyst said spam-fighting companies that make money combatting the onslaught of unsolicited e-mail, which the Yankee Group ranks as a top security concern among both large and small businesses, are not and should not be concerned about losing business because of such legislation.
"Others will always come up with ways to circumvent these things," Ritter said. "It will be an ongoing battle for years to come."