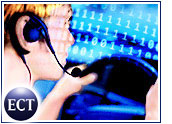 It is a sight that one sees seemingly everywhere, from neighborhood streets to busy highways to bumper-to-bumper traffic jams: drivers taking their eyes off the road and hands off the wheel to use their cell phones. This dangerous activity has become commonplace, but attempts to address the issue remain controversial.
A number of states have passed laws banning the use of traditional cell phones on their roadways, and vendors have also developed an ever-increasing array of hands-free models designed to let drivers keep their hands on the steering wheel as they converse. Despite these initiatives, the problems created by cell phone usage while driving remain, and some say the only viable solution is banning use of the devices on the roads altogether.
Concern about the impact of cell phone usage on driving safety seems legitimate. Research by human factors/ergonomics professionals has shown that driving and talking on the phone can lead to accidents. That's because driving a car is a complex task, demanding close and continuous attention, and any distraction, even one as brief as a couple of seconds, can result in a driver losing control of a vehicle.
Cell Phone Fatality
The National Highway Traffic Safety Administration (NHTSA) estimates that at any given time approximately 3 percent of those driving passenger vehicles on America's roadways are talking on hand-held wireless phones. With an estimated 163 million cell phone users in the U.S. according to the Cellular Telecommuniciations and Internet Association, hundreds of thousands, or perhaps even millions of users, could be talking on their phones while on the road at any moment.
The issue came under more intense scrutiny when NHTSA cited a driver's use of a wireless telephone as one cause in a fatal accident that occurred in February 2002 near Largo, Maryland. In response, state legislators in a dozen locations, including the states of New York and New Jersey, and the city of Washington, D.C., enacted laws that require wireless users to rely on hands-free devices while driving.
These laws led to an increase in sales of hands free devices, which mainly rely on Bluetooth communications. "The hands-free market breathed new life into Bluetooth technology, which has been an interesting concept in search of market niche," said John Jackson, an industry analyst with the Yankee Group. An in-car Bluetooth connection eliminates the need for a phone cradle completely, and the wireless device's chipset provides communication capabilities with a range of at least 10 meters.
Wide Array, Won't Obey
An ever-growing array of hands-free devices has been emerging. "Users who are interested can choose from a wide range of inexpensive — $10 or less in some cases — of hands-free devices," noted Chris Ambrosio, a director at market research firm Strategy Analytics. Voice recognition systems seem to be the most effective in lessening diversions because they enable the user to speak rather than require any hand movements, but they are not as widely used as products that still need some finger movements.
Despite the fact that a number of government bodies passed laws banning cell phone use on the roads, the practice continues, and controlling drivers' behavior remains a challenge. In December 2003, driving while talking on the phone was banned in Great Britain, yet Jabra Inc., a firm that manufactures hands-free solutions, found that as many as 14 percent of drivers readily admitted to still using their handheld mobile phones while driving.
Another barrier is the willingness of law enforcement officials to enforce such regulations. In select areas, they have been willing to pounce on users who happened to pick up a phone as they wait at stop light, but in many cases police do not take an aggressive stance against transgressors. In general, penalties for cell phone users tend to be small, in most cases a find of $100 or less.
No Discernable Benefit
Moreover, while groups are pushing for more hands-free devices, the effectiveness of these devices is questionable. The University of Utah's Applied Cognition Laboratory completed several surveys concerning the use of hands-free devices. "We were a bit surprised to find that the hands-free devices did not have an appreciable impact on the number of accidents that stem from people talking on cell phones," noted Dr. David Strayer, who was in charge of the studies.
He presented a couple of theories about why that may be the case. The first is that users don't always have full control over cellular calls. An important call may come when a person is trying to navigate a tricky turn and distract him or her from the task at hand. Also, phone conversations seem to remove individuals from the here and now, so their minds are focused on other places, which may limit their ability to respond quickly to driving threats.
Despite the lack of consensus about what to do abou it, most observers agree that cell phone usage in the car will continue to be an issue. "Unfortunately, there is a certain percentage of individuals who will eat, try to change the radio station, or talk on their cell phones when they are driving," Strategy Analytics' Ambrosio told TechNewsWorld. "It doesn't seem like any new laws or publicity about the negative impact of their actions will force them to change their habits."