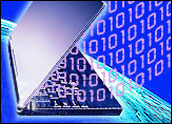 Three hardware heavyweights unveiled notebook computers capable of cellular broadband wireless service from Verizon this week, bolstering support for the wireless technology and improving its performance with plans for built-in, roaming broadband capabilities.
Dell, Hewlett-Packard and Lenovo all announced new notebook computers that will ship with built-in functionality for Verizon's Evolution-Data Optimized (EV-DO) wireless network, which extends beyond the wireless reach of WiFi in the way other mobile phone services can with data transmission speeds of 400-700 kbps.
Still, industry analysts indicated that Verizon's wireless data efforts carry their own challenges. While the new notebook computers serve to support EV-DO cellular broadband technology, they are also likely to spur WiFi technology providers as well, Yankee Group senior analyst John Jackson told TechNewsWorld.
"This should serve to catalyze the WiFi hot-spot aggregators," he said, referring to wider coverage through integration of WiFi hot-spots, which offer higher transmission speeds, but are more limited in range.
Beyond the Hotspot
In their own separate announcements, PC giants Dell, HP and Lenovo announced new models that would incorporate EV-DO wireless capabilities.
Dell announced collaboration with Verizon for EV-DO cards for its Inspiron and Latitude notebooks, with tighter integration built directly into notebooks starting next year. HP said it expects to make the mobile broadband technology available to customers through a PC Card solution this fall, with integrated Verizon EV-DO technology in notebooks beginning next year. Lenovo, for its part, said it will integrate EV-DO technology into upcoming versions of its ThinkPad notebooks, starting with the new ThinkPad Z60m available next month.
At the same time as its moves with notebook manufacturers, Verizon is pushing its EV-DO service with marketing across the country, touting the service's ability to take mobility further.
"High-speed mobile connectivity will change the way many users stay connected and in doing so will set a new standard of productivity for users on the go," said a statement from John Stratton, Verizon vice president and chief marketing officer.
New Set of Hurdles
Yankee Group's Jackson said the deal with notebook makers was expected and represented a significant boost to a different wireless option, but he added that the technology brings its own challenges.
"It presents a new set of hurdles for the market," he said, referring to distribution and the necessary relationship between wireless operator and user.
Still, Jackson said the deals will have an impact, and may mark the beginning of new mobile functionality in notebooks.
"This brings a new value-added dimension to the notebook, and it brings it directly," he said.
Loyalty By Laptop
Ovum Vice President of wireless telecoms Roger Entner told TechNewsWorld that the notebook deals will make Verizon's EV-DO much more accessible to users. The analyst went on to say the deals will elicit "incredibly more loyalty" for Verizon from purchasers of the laptops, which are being built to work primarily with Verizon's solution.
Entner said Verizon was using a page from the Intel playbook, promoting EV-DO the way the chipmaker promoted WiFi 802.11 wireless with the "if you build it, they will come" approach.
Entner said it is too soon to tell how Verizon's wireless data service will stack up against the wider-coverage of WiMax, a next-generation WiFi wireless solution. However, he indicated that the offering does represent a greater degree of mobility with a greater degree of speed now that the technology is being integrated into notebook hardware.