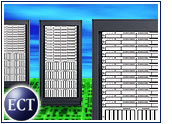 New growth in scorched earth might be the best metaphor to describe the state of the high-end router market at present. A few years ago, when the Internet was booming, a bevy of startup suppliers rushed to build the top-of-the-line network devices called core routers. It was thought that products operating at gigabit speeds soon would be needed everywhere to shuttle the massive amounts of information pumped over the Net.
However, that need has proven slow to emerge, and carriers have lost interest in the complex, expensive products. As a result, high-end router sales plummeted by nearly 50 percent in 2002, forcing many hardware startups to reexamine their business plans.
After burning through hundreds of millions of dollars in venture capital, high-profile companies like Pluris Networks and Tenor Networks simply closed up shop. Currently, a handful of firms, including Avici Systems, Caspian Networks, Charlottes Web Networks, Hyperchip and Procket Networks are trying desperately to gain the sales traction required to remain viable enterprises.
Only the Add-Ons
But this is not an easy task. "Most core router sales today are for small add-on purchases to existing networks; we aren't seeing many instances where carriers are building out new networks or dramatically expanding existing ones," Rich Malone, a principal at market research firm Vertical Systems Group, told TechNewsWorld.
New networks were in vogue during the Internet boom. Startup competitive local exchange carriers (CLECs) and inter-exchange carriers (IXCs) thought they would be able to use IP network efficiencies to deliver less expensive, more functional services to commercial and residential customers. So they invested in new core equipment at a healthy rate.
As it became evident that many dot-coms were not financially viable, investors became nervous. They started pressuring the CLECs and IXCs to focus on profitability rather than on building their client base. So startup carriers cut back on capital expenditures, and worldwide core router revenue dropped from $2.5 billion in 2001 to $1.3 billion in 2002, according to Infonetics Research.
Analysts expects this year's sales to be flat, with the possibility of a slight increase or tiny decrease of less than 5 percent.
Cheap and Conservative
In addition to becoming stingier, carriers became more conservative, and they have never been viewed as a risk-taking group. As investor priorities shifted, many feared being saddled with equipment from a vendor that eventually would go out of business. Therefore, it has become difficult for startups to have their products evaluated, let alone get them installed in core networks.
Currently, carriers have confidence in only two router suppliers: Cisco Systems and Juniper Networks account for 90 to 95 percent of core router sales, according to analysts.
"During the past 12 to 18 months, it has become increasingly unlikely that a strong third player will emerge in the core router market," Vertical Systems Group's Malone told TechNewsWorld.
A Few Rays of Hope
Yet there are a few reasons for optimism among startups. Established telecommunications equipment vendors, such as Alcatel and Siemens, have good relationships with carriers but have not developed their own high-end routers.
"Joint marketing agreements offer the startups the opportunity to garner more attention from established carriers," Kevin Mitchell, directing analyst at Infonetics Research, told TechNewsWorld.
Also, carriers are starting to make more investments in their networks. "Telcos can only delay network equipment purchases for only so long; sooner or later they need to install new products," noted Melissa Phillips, a research analyst at In-Stat/MDR.
The need for new equipment has emerged because the amount of Internet bandwidth needed continues to rise. Every 12 months, the volume of traffic traveling over the Internet doubles.
One reason for this increase in bandwidth is that the number of individuals using the Net continues to rise. Also, a wider variety of connections lets users access information more frequently. For instance, wireless connections enable business people to access their e-mail and download important files from remote locations.
Migrating from the PSTN
New technologies are emerging that enable carriers to send a wider variety of information over the Internet. Many carriers are moving their customers' frame relay and voice networks from the Public Switched Telephone Network to the Internet.
Also, many organizations are investing in higher-speed connections. Sales of DSL and broadband cable, which offer a twentyfold increase in bandwidth over dial-up connections, are robust. There is also some interest — although not as much as originally envisioned — in alternative high-speed corporate networks. New optical Ethernet networks, for example, let carriers deliver 10 Mbps, 100 Mbps or even 1 Gbps Ethernet to their customers.
However, these changes are occurring at the edge of the network, rather than at its core. "As carriers and customers invest more in edge devices, there is a ripple effect," InStat/MDR's Phillips explained to TechNewsWorld.
"Eventually, telco service providers will need faster core connections to carry the growing volume of data being pumped over their networks."
Heading Overseas
Vendors also are turning their attention abroad. "In Europe and Asia, the Internet network infrastructure was not built out as quickly as here in the United States, so there are some sales opportunities there," explained Vertical Systems Group's Malone.
As a result, analysts anticipate a healthy uptick in sales — to the tune of about 20 percent — in 2004: "It certainly seems like the core router has hit rock bottom," noted In-Stat/MDR's Phillips.
"While a rebound seems likely next year, it will take several years before we reach the sales volume seen in 2000 and 2001."
In the meantime, router manufacturers will continue to look to other areas to cultivate new business. Just this week, for example, 3Com announced the Router 5000 series, specifically designed for the small-business market.
What remains relatively certain, given the figures, is that Internet use will continue to grow and that bandwidth requirements, as a result, will continue to increase, ultimately making high-end routers a necessity rather than a luxury.