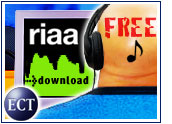 Charter Communications is the latest major ISP to take legal measures to prevent the Recording Industry Association of America from using subpoenas to reveal the identity of its Web users.
In a suit filed in federal district court in St. Louis, Missouri, Charter is seeking to block the RIAA from obtaining the identities of its customers, including those targeted by earlier subpoenas from the RIAA. Charter said it had received subpoenas requesting the identities of approximately 150 of its high-speed access customers who are accused by the RIAA of illegally trading copyrighted music over the Internet.
Charter's resistance comes on the heels of similar legal maneuvers by large Internet carriers Verizon and SBC Communications. It also illustrates the increasing level of opposition to the RIAA and its strategy, which is focused on legally pursuing individual file-traders.
"We're already seeing a broad coalition of people from all political points of view concerned about the abuse of these subpoenas," Electronic Frontier Foundation staff attorney Wendy Seltzer told TechNewsWorld.
Legal Rights
Charter, which notified its customers in writing that their identities were being sought by the RIAA, said it has not supplied the RIAA with any information as a result of the recording industry subpoenas.
"Charter considers customer relationships to be its most important responsibility," the company said in a statement. "Accordingly, we're exercising our legal rights in order to protect the legitimate interests of our customers and our business."
Seltzer commended Charter for "doing this and resisting what we think are unconstitutional subpoenas that invade Internet users' privacy without even giving them a chance to oppose the disclosure of their name."
Not Concerned Again
While Charter's suit adds to legal challenges by Verizon, which lost its bid to refuse disclosure of its users' names, and Pacific Bell Internet parent SBC, RIAA spokesperson Amy Weiss told TechNewsWorld that the organization does not view the suit as significant.
"Verizon brought these same arguments to court and lost, so we are not concerned with this," Weiss said. "It's deja vu all over again."
Weiss declined to indicate the number of subpoenas filed by the industry group, but the EFF's Seltzer said it is more than 1,600. Weiss also would not say when the RIAA plans to sue more accused music pirates — 261 were sued a month ago — but he indicated there will be a "next wave of lawsuits."
Coalition Complains
While Charter is among the larger ISPs that have filed suit to avoid supplying subpoenaed names — compliance is required by law under the Digital Millennium Copyright Act — a group of providers called NetCoalition has complained of the RIAA's response to its concerns.
Specifically, the coalition criticizes the RIAA's response to a letter it sent in August and also refers to reported cases of mistaken identity involving both the wrong ISPs and the wrong people.
"On September 24, 2003, the RIAA mailed a rambling and dismissive response that failed to answer nearly every question in the NetCoalition letter," the coalition said on its site. "Instead, it offered only broad generalities, refusing to even acknowledge the well documented mistakes in identity that have already come to light."
Hashed Out on the Hill
Charter's suit — as well as several grassroots boycotts of the major record labels — come after a week of U.S. Senate committee hearings on illegal file-sharing activities and the RIAA's strategy to curb those activities.
RIAA spokesperson Jonathan Lamy told TechNewsWorld the hearings demonstrated that a number of senators feel the RIAA lawsuits are appropriate and that there is a reluctance to revisit the DMCA, which has been the basis for the RIAA subpoenas.
However, Seltzer said a divergent view is held by a number of senators, including Sen. Norm Coleman (R-Minnesota), who is seeking an alternative to the lawsuits, Coleman representative Andy Brehm told TechNewsWorld.