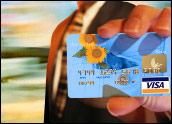 While touting speed and convenience for credit card users, JP Morgan Chase & Co.'s Chase Bank is also causing some concern among security experts with its "blink" technology announced this week, which will allow contactless credit card purchases with the consumer's wave of the card at convenience stores and other establishments.
Chase said its Visa and MasterCard credit cards would be rolled out this summer, with early adoption by Sheetz and 7-Eleven stores and thousands more businesses, including movie theaters and fast-food restaurants, by the end of the year.
Blink and Buy
Chase said it was "broadly rolling out" the cards after working closely with merchants in each market to ensure broad acceptance with the launch. The contactless cards will work at Sheetz convenience stores first and will allow customers to simply wave the card at the cash register, on their own, to purchase items. The cards will also work at 170 different 7-Eleven stores, and eventually throughout the 5,500-store chain.
"We believe these innovative cards with blink will provide merchants and cardmembers with the increased speed and convenience they want at the point-of-sale," said a statement from Chase chief marketing officer Carter Franke.
Franke indicated the cards would feature the same security and privacy protection as other cards, including zero liability for unauthorized purchases. He also said cards with blink would include an embedded technology that is read by the point-of-sale terminals. The cards can also be used with their magnetic strips as regular credit cards, the company added.
Safe Enough?
Security experts familiar with the cards' radio frequency identification (RFID) technology, described by Chase as "contactless functionality," expressed some concern over the devices' security strength. Some have suggested that they may make it easy for perpetrators to commit fraud or identity theft.
However, industry observers such as Yankee Group analyst Adam Zawel indicated the security concerns are mitigated to some extent by the physical distance that separate wireless chips and readers in such solutions. The market may demand more of the contactless payment technology, he said, which is already provided by many gas stations.
"The security and privacy issues come down to a matter of inches," Zawel told TechNewsWorld. "Although it's wireless, it's not wireless LAN. It's 2-inch wireless, so you have to get pretty close to steal the signal."
Insecurity Issues
However, Johns Hopkins Information Security Institute director Avi Rubin told TechNewsWorld he thought it was troubling that Chase was not touting any independent security evaluation by experts.
Rubin, who led a team of researchers that found significant security gaps in RFID technologies used for automobile locks and easy-pay gasoline systems earlier this year, said he would not be surprised if experts given the opportunity would find similar holes in the Chase bank card technology.
"We just don't know what they've developed, so it's an open question, which is kind of scary without a security evaluation by people who know security," he said. "They need to get an independent security assessment done and they need to be open about the security measures in place."
Could Catch On
Yankee Group's Zawel said regardless of the security concerns, if the contactless cards are being offered at no additional costs, consumers might take to the technology.
"Once they figure it out, they'll use it," he said.
The analyst added that while Hong Kong and Tokyo feature contactless payment options for most mass transit, that type of widespread use of such technology in the U.S. is still five years or so away.
"It's really a vendor story," he said. "It can make life slightly easier for the consumer, but it's a question of whether the vendor commitment can get past the chicken and egg phase. Once it starts rolling, it'll keep going. It's not so much the technology, it's business arrangements."