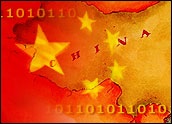 China's standards body is crying foul over the rejection of its wireless encryption technology by the International Standards Organization (ISO), claiming an alternative from U.S. standards groups and Intel was railroaded through the international standards procedure.
Reports from China indicate the Chinese standards group is appealing to the ISO over the rejection of its Wired Authentication and Privacy Infrastructure, or WAPI, wireless local area network (WLAN) encryption standard and the approval of the 802.11i standard from the Institute of Electrical and Electronics Engineers (IEEE) and, chiefly, Intel.
China's complaints were met with some skepticism, and industry observers doubted whether China's largely "secret" specification could ever be internationalized.
Red Flag
The Chinese standards agency and the IEEE both applied for ISO fast-track standardization earlier this year, but the ISO chose to move forward with the IEEE-Intel solution.
Reports indicate the basis of China's ISO appeal is a contention that the IEEE broke ISO rules and duped the international standards body members into approving the U.S. specification.
The ISO signaled it will investigate the claims, according to Chinese reports.
Political Spec
With one-sixth of the world's population, China certainly has the right to move ahead on its own standards, but the nation is unlikely to find the world is willing to internationalize its standards given China's history of building in back doors for government snooping or censorship, Farpoint Group founder and analyst Craig Mathias told TechNewsWorld.
"Obviously, there's a political motivation for China to do what they like, as is their right," he said. "In terms of their standard becoming the international standard, that's unlikely. There's enough that's still secret about all they're doing for it to ever become an international standard."
Mathias described any implications from China that Intel was unfairly favored as "a red herring."
"It's mostly politics," he said.
No Surprise
The rejection of the Chinese WAPI standard is not a surprise because the U.S. alternative comes with a family of other 802.11 standards, and the vote in favor of the 11i standard was a solid one, Yankee Group Vice President Phil Marshall told TechNewsWorld.
"Voting was overwhelmingly in favor of 11i," he said. "I am not convinced that this outcome would have been in favor of WAPI had the ISO process been adopted differently."
Marshall also indicated Intel's dominance in the market may indeed impact standards, but the company has also helped drive the wireless industry for all players.
"While Intel may have captured significant market share in WLAN, its focus towards driving standards through the IEEE has accelerated the adoption of the technology," he said.