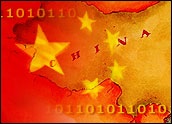 A Chinese group announced it began operating what it says is the world's biggest next-generation Internet network over the weekend, boosting data transmission speeds and bringing more Internet protocol (IP) address possibilities to a region sorely lacking them.
The move to Internet protocol version 6 (IPv6) — which delivers greater capacity than today's IPv4 Internet and 128-bit IP addresses that exponentially increase the number of possible addresses from today's 32-bit technology — has been necessary in Asia, where countries such as China, Japan and South Korea have a shortage of available IP addresses.
While the China Education and Research Network (CERN) highlighted the 10 gigabits-per-second speed of its new IPv6 network, CERNET2, experts indicate the shortage of IP addresses continues to be the main driver of the move to next-gen Internet.
Next-Gen Network
"It's still about the IP addresses," Yankee Group senior analyst Zeus Kerravala told TechNewsWorld. "China's one of a handful of countries that has less IP [addresses] than a lot of U.S. corporations."
CERN reported that the IPv6 network, which links 25 Chinese universities in 20 different cities, could transmit data from 2.5 to 10 gbps or even faster, such as the 40 gbps achieved during a trial earlier this month.
The Chinese group said its CERNET2 is the biggest IPv6 network in operation and is also the first "pure" IPv6 network.
"We were a learner and a follower in the development of the first generation Internet, but we have caught up with the world's leaders in the next-generation Internet, become a first mover, and won respect and attention from the international community," CERNET committee director Wu Jianping said in a statement.
Protocol Problem
Asian countries and companies, including Fujitsu, Hitachi, NEC and Samsung, have collaborated on the transition from today's IPv4 Internet to IPv6. The consortium, under pressure to head off a shortage of IPv4 addresses, has indicated the newer technology might be mandated beginning next year.
According to CERN, the U.S. controls 74 percent of the 4 billion IP addresses possible with IPv4, with China limited to the same number of IP addresses as the University of California, despite its 80 million Internet users.
Work toward IPv6 in the U.S. has involved the Department of Defense, Cisco, IBM, Microsoft, HP and others, but the continued availability of IPv4 addresses has resulted in a lack of urgency, according to observers.
Mingled and Managed
Yankee Group's Kerravala, who predicted it could be as many as seven years before the U.S. truly begins adopting IPv6, said the two Internet protocol technologies are likely to co-exist for some time.
"There's really no migration," Kerravala said. "We're going to be running both for a long time."
Kerravala said there is increased interest in higher transmission speeds, which have dropped in price, but added that speeds such as 10 gbps are not necessarily tied to IPv6.
The analyst also said that the inclusion of IPv6 technology in today's products was causing some problems for users and administrators. However, the biggest issue of the next-gen Internet, Kerravala said, is the management of IP addresses. Today, he said, organizations often manage IP addresses with home-grown tools and equipment that is optimized for 32-bit addresses.
"It's going to be even harder to manage 128-bit addresses," Kerravala said.