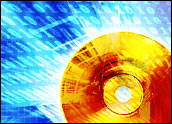 Fresh on the heels of rival Movielink's announcement of a licensing deal allowing DVDs to be burned from feature film Internet downloads, CinemaNow said its customers could immediately begin burning titles from a catalog of 100 movies with its own burning service.
The beta service, "Burn to DVD," offers DVD content over the Internet that can be recorded onto a blank disc for playback in a standard DVD player for a fee starting at US$8 per film. The pricing will include DVD extras and printable labels with art.
Both the Movielink and CinemaNow deals are helping bridge the gap between Internet movie distribution and living room TV viewing, which despite industry promises, are not yet generally connected.
"Since CinemaNow was founded in 1999, our mission has been to provide our customers with convenient access to video content," said CinemaNow CEO Curt Marvis. "This is a historic day for CinemaNow and we are at the forefront of digital video distribution."
Finally Portable
The DVD burning services come from online movie companies that have thus far been limited largely to movie downloads to PCs, unable to offer DVD burning due to the copying and pirating concerns of content holders, movie studios in particular.
The new services are significant in that they free the content being offered from the confines of the computer, Gartner Research Vice President Mike McGuire told TechNewsWorld.
"Finally, you've got the ability to deliver some level of portability," he said. "It's very important to get this from the rights holders."
Out-Takes In
CinemaNow said its new service would also deliver other DVD features over the Internet — full graphic menus, 5.1 surround sound, and special or bonus material typical with retail DVDs — which could be burned onto a customer's blank DVD.
CinemaNow offers downloads of more than 4,000 feature films, but not all can be burned to DVD. The company said its beta Burn to DVD service would start with 100 titles, including "Barbershop," "Charlie's Angels: Full Throttle" and "Scent of a Woman."
A number of other online movie sites and services, as well as content players like Amazon and Apple, are also looking to make DVD movies more available via the Internet, but legitimate downloads today are typically available for viewing only within limited timeframes, or as non-transferable hard drive video files.
DRM Dependency
Both Movielink and CinemaNow are offering their download-to-burn services with partners that have helped them lock down the content for a single DVD burn — also known as a "sterile burn" — via the use of digital rights management (DRM) controls.
Movielink, which has not announced pricing for its movie burning service, worked with Sonic Solutions to develop its DRM system, while CinemaNow said its Burn to DVD service was based on fluxDVD's technology for secure Internet distribution.
While price may remain somewhat prohibitive for these services, Gartner's McGuire said if the companies are up front about their DRM limitations, and what those limitations will and will not allow customers to do, mainstream users will probably not object to paying a few dollars more for the burn-to-DVD option.
McGuire indicated that until home networking is simple enough for mass consumers, the burnable DVD services may be the best way to "bridge to the digital format."