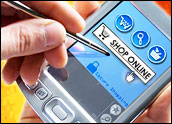 The online delivery of movies and TV content is encumbered by a tangle of digital rights management, copyright and technological issues. The cell phone's proper place in the whole landscape is one of many difficult questions the industry's trying to sort out.
With its new offering, CinemaNow proposes that the cell phone work as a sort of portable box office. It's partnered with uVuMobile to develop a site for mobile devices where users can view movie trailers and purchase downloads on the go.
The downloads don't go to the phone, though; instead they're instantly sent to the user's home computer, set-top box or other Web-connected device running CinemaNow's Media Manager technology.
Ready at Home
This can effectively work as a solution to a common problem facing any movie download service. None of these services is exactly video-on-demand when you have to wait for the download to complete — or at least make a certain amount of progress — before viewing your selection.
Sure, a user with a fast Internet connection will be able to start watching a standard-definition movie acquired through iTunes just a few moments after requesting it, for example. But someone with an average connection who wants a high-definition movie sometimes has to wait hours. CinemaNow's service would let you order your entertainment while out and about, and the movie would presumably be ready for you when you get home.
What's the Phone's Job?
Are purchases and trailer delivery all the cell phone is really good for when it comes to digital movie downloads? Sony Pictures Television thinks phones can be put to a lot more work. Last month, it announced a service that will offer a limited catalog of movies that users can download to — and view on — the phone itself.
That sounds like a sure-fire way to make watching any movie, even a great one, a horrible experience. Then again, every time I go to an airport, it doesn't take long to spot someone watching video on an iPod with a screen about the size of a Girl Scout cookie, so go figure.
Of course, there are ways around the small-screen limitation as well. Companies like Microvision, 3M and Texas Instruments are working on new devices called "pico projectors" — handheld projectors that can display a cell phone's image at much larger sizes — some claiming as big as six feet.
I wonder, though, what the most practical application for such a projector would be.
Riding the subway: No.
At work: Don't get caught.
On a plane: Perhaps, but not next to me if I'm trying to sleep, OK?
At home: Why not just use the TV?
Don't Forget the Geek Goggles
If nothing else, you can get a pair of video glasses, which are great because they cover your entire field of vision and you can't see anyone around you as they point and laugh.
The forced marriage of cell phones and digital entertainment will work out somehow, but living arrangements are still sketchy. There's more than one way the two can cohabitate. There are ways of joining them that solve problems — in this case, the wait for downloads — without turning the phone into another end-point viewer.
CinemaNow's development is one way to rope phones into the mix that doesn't result in basically turning the world into the user's tiny-screened, not-so-private living room.
Click here to e-mail Paul Hartsock.