Verizon aims to populate its nascent 4G LTE wireless network withnearly a dozen new devices over the next six months, the companyrevealed Thursday at its press event at the Consumer Electronics show.It showed off four smartphones, two tablets, two small notebookcomputers and two mobile hotspots.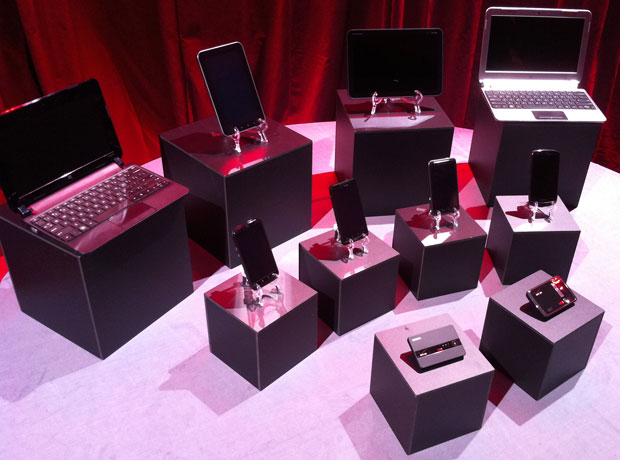 Verizon's stable of new 4G LTE devices
The company already offers a USB modem that allows any laptop toconnect to the Internet over Verizon's 4G network. LTE users canexpect mobile download speeds of five to 12 megabits per second and upload speeds of two to five Mbps, based on Verizon's claims.
The company also discussed a partnership with rural carriers that ithopes will bring its wireless services to users in less-populatedareas of the U.S.
The Birth of a Network
It's been just over a month since Verizon's 4G network went live, andpresently it covers 38 cities and one-third of the U.S. population,according to CTO Tony Malone. In 2011, Verizon hopes to add 140 moremarkets.
In addition to outlining its plans to move its LTE services into morecities, Verizon discussed its intention to begin sharing access to itsnetwork with rural carriers.
"If you live in rural America, this is going to be a very biginitiative for you," said Dan Mead, president and CEO of VerizonWireless.
Verizon's first partner in the project is Bluegrass Cellular. Twoadditional agreements have also been finalized recently, and Verizonsays many more are on the way.
Faster, Stronger
The proliferation of faster networks from Verizon and other carrierscould pave the way forthe development of more sophisticated mobile apps.
Skype, for example, will promote the use of its mobile video chatapplication by deeply integrating the app into Verizon's 4G phones,allowing users to contact others who have similarly enabled phones andconduct video chat sessions over the cellular data network.
Also, Electronics Arts' mobile division announced plans to launch amobile version of the game "Rock Band," which allows multiple users toplay together via the 4G wireless network. The game requires playersto execute precisely timed, rhythmic tasks in unison and so wouldrequire network lag be kept to a minimum in order to work properly.
The New Gang
A total of 10 new 4G LTE devices took the Verizon stage. Some arenearly complete; others don't yet have names. However, all will bereleased by the end of the second quarter.
"Look for all of these devices to come to market in the first half ofthe year, with some coming as early as March," Verizon Wireless CMOMarni Walden told the audience.
In smartphones, Verizon displayed the Droid Bionic, which phonemakerMotorola also featured at its CES press event Wednesday; theThunderbolt, an HTC phone running Android 2.2; the Revolution, LG'sfirst 4G handset; and an as-yet unnamed Samsung phone.
Though the Thunderbolt is HTC's first LTE phone, it's not the firsttime HTC has launched a 4G handset. Its Evo smartphone runs onSprint's 4G network, though that system does not use LTE technology.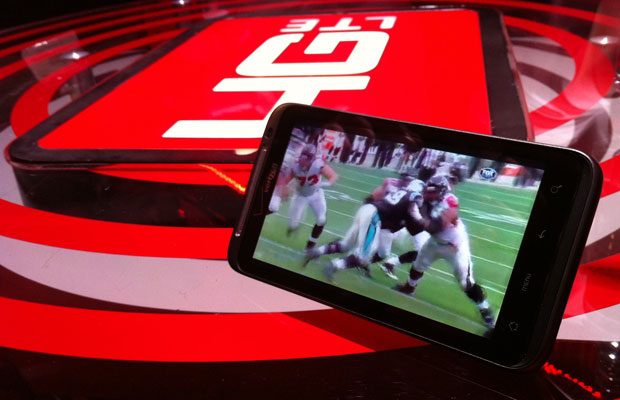 The HTC Thunderbolt
Thunderbolt will feature Android 2.2, though Verizon wouldn't saywhether it would be upgradeable to Android 2.3, aka "Gingerbread,"when the OS is more readily available.
Though the Samsung phone has yet to earn a proper name, Verizon saidthe device will be upgradable to Gingerbread. The device features a4.3-inch Super AMOLED Plus display.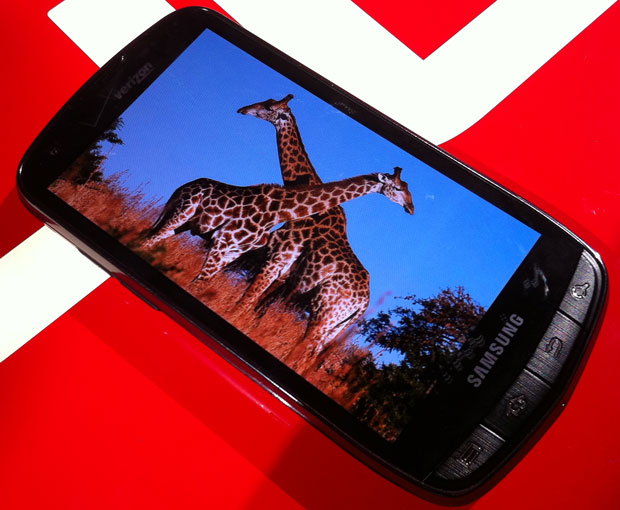 An as-yet unnamed Samsung LTE phone.
Other Devices
As Verizon and other networks build out their 4G infrastructures,device vendors are building the wireless technology into gadgets otherthan smartphones.
Tablets, for example, were twice featured in Verizon's new productlineup. The Motorola Xoom, which also debuted Wednesday, will have theability to connect to Verizon's new 4G network.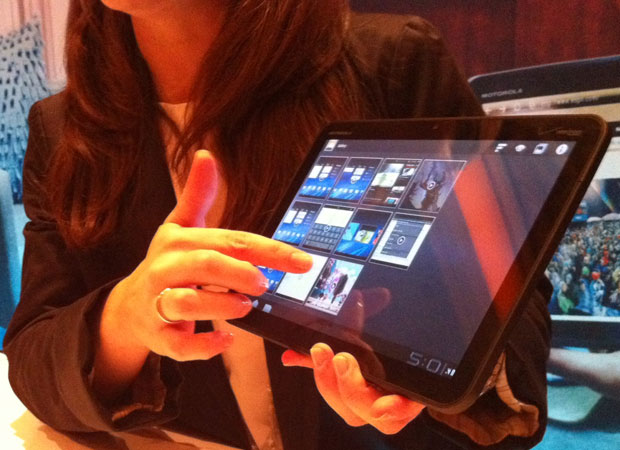 The Motorola Xoom
A version of theSamsung Galaxy Tab, a product that originally debuted late last year,will also make its way to Verizon LTE.
HP put forth two small notebook computers with Verizon LTE abilities:the HP Pavilion dm1-3010nr and the Compaq CQ10-688nr.
In addition, 4G mobile hotspots allow any device with WiFicapabilities to hop onto a 4G cellular data network. The pocket-sizeddevices connect to a 4G network, then provide a short-range WiFisignal that can be used by multiple gadgets in the immediate area. Atits press event, Verizon launched two such hotspots: the MiFi 4510LIntelligent Mobile Hotspot and the Samsung 4G LTE Mobile Hotspot, bothof which support up to five WiFi devices and can connect via either 4Gor 3G services.
As implemented by Verizon and other networks, 4G speeds may come at apremium price. Users who want on board may have to spend more on theirmonthly smartphone bills. Verizon representatives said they weren'tprepared to share plan pricing information Thursday, though Waldenpointed out Verizon's prices for present users of the company's 4G USBmodems: US$50 per month for a total of 5 GB or $80 per month for 10 GB.
Company officials were also asked whether a flood of new users couldoverwhelm its LTE 4G network, resulting in degraded performance.
"We fully expect five to 12 [Mbps download speeds] as we fully loadthe network," Malone replied.