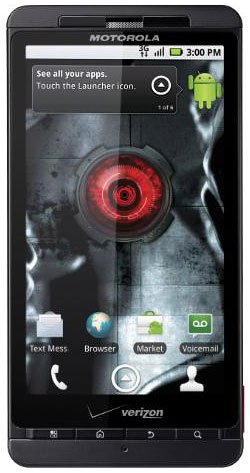 Droid X
As much as I'd like to review the Verizon Droid X from a perspective utterly unpolluted by bias, preconceptions and ingrained habits, that's just not going to happen.
The problem is, I'm a human being. Not only that, but I'm also a human being who's been using a certain other smartphone of note as my daily driver for a few years. No matter how often I try out BlackBerries, WinMos, Palms and Androids, my constant use of that other phone has created a certain baseline in my mind. Comparison will be inevitable.
Not that such comparisons are entirely inappropriate. The Android vs. iPhone battle is shaping up to be as vicious as the Mac/Windows war, and even though Motorola's Droid X is going up against other flagship Androids like the Incredible and the Evo, it also happens to be the Android of the Moment, the latest superstar Gphone drawing attention to the whole platform and the de facto leader of the charge up Cupertino Hill — at least until the next full-featured, high-powered Android drops in.
A Nice Gray Stone
The Droid X has such an austere, gray-on-black look to it that if you happen to drop it onto its back panel, the scratches might actually look kind of appropriate. It's not technically a ruggedized phone, but it looks the part. The only loose bit about the appearance is its camera button, which feels a little jiggly.
Much has been written about how big this thing is, and it's true — at 5 x 2.6 inches, this is way bigger than almost any other smartphone out there. But big doesn't necessarily mean awkward, and even with that tapered-at-the-top camera assembly, at no point did I feel like I was dealing with something that was just too impractically large to be a goes-everywhere smartphone. You might feel differently if you have small hands or small pockets, but I was just as comfortable walking around with it as I am with an iPhone.
The phone's media speaker — the one that plays music and video soundtracks, not the one that carries phone conversations — is oddly placed on the back of the device, meaning it's projected away from you as you watch what's on the screen. Then again, can anyone name a smartphone with a really great built-in sound system?
The Droid X's exaggerated height and width provide ample room for the device's 4.3-inch screen, which is definitely worth the extra pocket space. Not only does than mean more room to display images, video and other content, but a bigger screen also means a larger virtual keypad. Unlike the original Droid, the Droid X is a pure touchscreen phone — no slide-out keyboard. Touchscreen keypads take a bit of getting used to, and even after years of use, it can be difficult to type fluently with zero tactile feedback. Thumb-typing on a slightly larger screen like this just feels a little more comfy.
For the times you do make a typing error, text selection is done using a series of taps and holds. Double-tapping and holding gets you a magnifying screen for surgical strikes. Tap and hold gets you to the larger Edit Text functions: Select All, Select Text, Cut All, etc.
This phone's mammoth screen is no slouch when it comes to actual image quality. It blows away the image on the old iPhone 3GS, and even though it has a lower dpi than the iPhone 4's Retina display, I honestly can't say I could discern a difference, even at very close range.
Where It Gets Ugly
The Droid X's out-of-the-box interface is simply a mess. But it's a fixable mess, and I can sort of see the logic behind throwing this wild mishmash of apps and widgets on the screen and presenting that as the user's first view of the OS. It's not a great first impression, but at least it tells the user a little bit about the phone's customization options. It basically shouts, "I've got potential, but right now I really need a makeover, so do yourself a favor and learn how to do that! It's not that hard!" A startup tutorial mentions that if you don't like a widget, you can just drag it into the trash, and that's as much of an invitation as you need to lay waste to the entire arrangement and start from scratch.
Motorola calls its particular spin on Android "MotoBlur," and it's big on widgets that continuously update your social network activity, among other tasks. Despite the cluttered look of it all when it first touches your hands, MotoBlur's widgets can be very useful if you carefully select and arrange them just right. That takes time, but that's the nature of a customizable, widget-happy interface. If you want it your way, you're going to have to tell it what that way is.
Still, even after a lot of primping, it's main value is functionality, not beauty. It will tell you everything you need to know about Facebook and Twitter activity, give you one-touch dialing to contacts, let you quickly start or stop power-sucking features like GPS and WiFi without having to dig through a Settings menu, give you instant access to the media player's controls, and dozens of other very useful functions.
It just won't look great doing it. The photos that it will display in widgets often look pixelated, the design of various widgets themselves doesn't always come off as 100 percent consistent, and the overall look could easily be just as messy as the out-of-the-box configuration if you don't plan it just right. But hey, the ads for the original Droid teased the iPhone as a "beauty pageant queen," so I suppose none of this bothers Motorola too much.
In all, you get seven screens for your various apps and widgets, with a home screen for the most important stuff. Not all the phone's apps must reside on those screens, though. A master application menu keeps a shortcut to every app you have, even if it's been booted from the top-level screens.
Software and Features
Whereas iPhone uses iTunes as its media management interface between computer and smartphone, Droid X uses Verizon's Vcast Media Manager, which you can get as a free download.
Unfortunately, you can forget about it if you're using Linux or Mac OS X. You're also off the map if you use a 64-bit version of Windows. This wouldn't be so frustrating if 64-bit OSes were still some nichey little sub-category that most software developers could afford to ignore when making a mainstream consumer product. But nearly half of all the PCs in the world running Windows 7 are running its 64-bit version — and Windows 7 has been a pretty good seller so far. If you're one of those 64-bit users (or a Linux or Mac user), it looks like you'll have to wait until Verizon catches up with you before you can work with Vcast.
Luckily, Vcast is not needed in order to usher media into the device the way iTunes is needed to load up an iPhone. You can simply plug your phone into your PC and drag-and-drop files in and out like you would with a thumb drive. That works, but some users may find this a decidedly less-than-graceful arrangement. The music files you drop in will appear ready to go in the "music" app, for example, but in order to maintain good housekeeping, you might want build your own file tree. That might be a hassle for some, but those who really want to control how everything's organized might actually find that preferable.
At Your Service
Whether or not Verizon is one of Droid X's biggest assets depends a lot on who you presently have a contract with and whether that carrier makes your life miserable with dropped calls and no-service spots. Verizon's network is generally very strong, and I found that attempts made in a few notable AT&T dead zones resulted in crackly yet effective calls using the Verizon phone.
After placing and receiving a few calls, though, I got a pop-up window shilling something called "City ID" — an "Enchanced Caller ID feature" that will tell me the name of the city from which incoming calls originate for two bucks a month after the free 15-day trial expires. I went to delete the app, but it wasn't on the system's list of erasable applications. Let's hope this is not a trend.
This being an Android phone and all, it's particularly strong with Google's own apps, especially its Maps software. Having Streetview on a phone is very useful if you want a preview of where you're headed so you know what to look for, and it includes the beta version of Google Maps Navigation, a turn-by-turn nav app. On an iPhone, a comparable service costs extra. Just remember that you'll have to actively exit the Google Maps Nav function — just hitting the Home button will keep it running in the background, which will bleed your battery dry.
Another nice feature present on the Droid X is a mini HDMI port, meaning you can play videos from the phone on an HD TV at up to 720p resolution. It looks sharp, but it would be nice to figure out a way to play more than just saved video — adding the ability to send YouTube video to the screen, for example
In Camera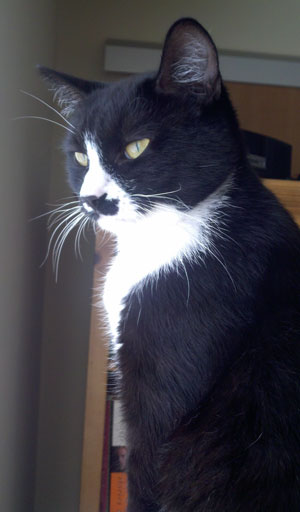 Taken with the Droid X camera.
Smartphone cameras are getting to the point where they're almost as good as — and in some ways better than — standalone point-and-shoot digicams. Droid X's camera crams in no fewer than 8 million pixels, and it can shoot video in 720p HD. It has a flash, mode settings like Macro, Sport and Portrait, and it can do a few simple in-camera effects like sepia tones and red, blue or green tint.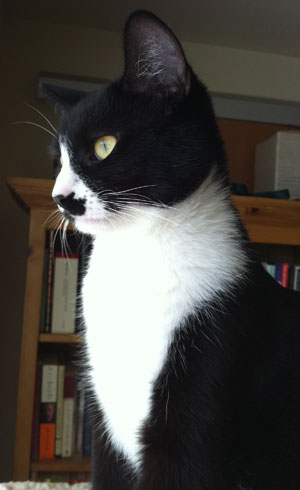 Taken with the iPhone 4's camera.
But even though that camera makes Droid X capable of shooting relatively massive stills, and even though it offers a wider range of adjustments and features than the iPhone 4's 5 megapixel snapper, and even though the Droid X really does outshine 99 percent of the cameras on other phones out there, I was generally happier with the photos shot through the iPhone 4. The Droid X's photos sometimes appeared a little washed out, poorer in color. The focus box must be dragged around the screen, rather than the simpler touch-to-focus approach. Also, the Droid X's lens appears to be set at a tighter angle than the iPhone 4's, and the wider angle view just seems to better suit the kind of photos I usually take with a cellphone.
The camera button at the lower right corner of the phone is rather convenient, though. If you hold it down for a few seconds, you go straight to the camera app, which might be easier than sorting through a bunch of apps.
Bottom Line
The Droid X goes for $200 with a two-year contract to Verizon (includes the 16GB data card). That's the standard price for any serious smartphone presently, and the Droid X lives up to that description in terms of power (processor is 1 GHz), memory and app availability.
Its screen real estate is a definite perk, and it's made all the better with that extra-sharp resolution. The HDMI port is another added plus.
Where the Droid comes up a bit short is with the camera (which is actually quite good relative to most cellphone cameras but doesn't seem to pack the iPhone 4's talent with color richness) and the interface aesthetics. However, the actual functionality of that interface — building one-click (and in some cases no-click) access to the kind of information and features you want directly in front of you — may well be worth it for those who want that level of control.