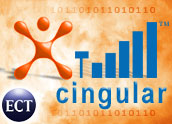 Hoping to boost mobile Web use and unlock potentially massive revenue in the process, Cingular Wireless has revamped its mobile Web services with an eye toward making it faster and easier for users to access the Internet from the phones.
Cingular, the largest U.S. mobile carrier in terms of subscribers, rolled out what it billed as a "significant upgrade" to its Media Net Web data service that reduces the steps needed to access the mobile Web and allows for personalization of push-style Web information.
The service is available to the 30 million Cingular customers who have data-services-capable phones. Cingular said users can now be connected onto the Web with as few as one or two clicks, compared to the four clicks it took previously.
More Customization
Cingular also rolled out a personalized "phone page" where Web surfing begins and which users can customize to have the information they want presented and remove what they consider clutter. Content partners feeding the home page include CNN, ESPN, E! Online and The Weather Channel for weather. Local content is also pushed to the home pages based on a user's ZIP code.
Cingular also added a ticker-like data feed to phones that can push content such as stock prices or weather reports to users' phones.
The company said the personalization of Web content is a logical extension of how people already use their mobile handsets.
"Our customers have already shown a desire to personalize their phones with ringtones, games and graphics," said Ralph de la Vega, Chief Operating Officer for Cingular. "We are giving them the tools to take personalization an unprecedented step further and attain the quickest access to news, information and entertainment in the industry. The result is a service that completely changes the way consumers engage with the wireless Internet."
Truly changing that interaction is seen as key because mobile Web use and the revenue that will come with it is something mobile carriers are counting on for sales growth in the years ahead.
Easy Does It
But convincing users to employ their mobile phones to go online regularly has proven difficult. Analysts say culprits include small screens that make viewing traditional Web pages difficult and, especially, small keyboards that are difficult to manipulate to type in Web addresses or navigate the Internet once online.
Cingular said its solution is poised to break through those roadblocks because it was designed with extensive customer input, with consumers involved at five different stages of the design and implementation of the upgrade.
Ovum Vice President Roger Entner said streamlining the mobile Web will help make Internet connectivity as essential to consumers as voice connectivity.
"While the wireless Internet has been available to consumers for years, until now it has not been as easy as it should be for consumers to use," Entner said.
Cingular is offering various pricing options for the Media Net services, from a pay-as-you-go approach that costs 1 cent per kilobyte of data to bundled packages that range in price from US$4.99 to $19.99 per month.
High Hopes
Telcom analyst Jeff Kagan said in addition to the revenue boost that Web services can bring, mobile carriers know they represent a competitive advantage.
Though so-called churn rates have slowed, with customers jumping to new carriers less often, the risk of losing customers to a carrier with a better menu of services is a strong motivator.
"Services like this will become important first as a differentiator and then as more carriers ofter them, as simply a basic cost of doing business for all phone companies," Kagan said.
Cingular may have the most at stake because it is the country's wireless leader. It has also been at the fore of other mobile services, such as a mobile radio service it rolled out earlier this week.
"Offering these services is important to them if they hope to hold onto that top position over the long haul," Kagan added.