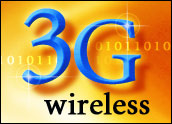 Cingular, with help from Lucent Technologies, will use its own employees to test a third-generation (3G), Universal Mobile Telecommunications System (UMTS) wireless network and evaluate services beyond voice, including high-speed data and multimedia.
The companies said that with an end-to-end UMTS network from Lucent operating in Cingular's 1,900-MHz spectrum, the service will support high-speed data connections for laptops, personal digital assistants (PDAs) and other mobile devices at speeds as high as 384 Kbps. The trial also will include testing of High Speed Downlink Packet Access (HSDPA), a technology that ultimately will support data transfer speeds as high as 14.4 Mbps, the companies said.
Cingular said the network also will be designed to support Voice over Internet Protocol (VoIP), a growing voice-communication technology that relies on digital data packets to transmit voice communication over the Internet instead of through standard telecommunications lines.
Something for Everyone
Cingular said the new network, to be tested with internal users in the Atlanta market, will allow it to provide advanced mobile services, including high-speed downloads of movie trailers, video clips of sports and other events, e-mail attachment access and the ability to locate nearby resources and businesses, such as cash machines, restaurants and movie theaters.
Cingular also said the network deployment will demonstrate technology for business that will give workers in the field high-speed mobile access to corporate networks and applications that are normally used in the office.
"This trial offers us an ideal opportunity to evaluate the capabilities and range of services that we can offer to our customers using UMTS and HSDPA technology, and overcome technical challenges before pursuing broader deployments," said Kris Rinne, Cingular's acting CTO.
Markets Uncertain
Yankee Group analyst Phil Marshall told TechNewsWorld that wireless carriers are struggling to predict and provide the right services to suck in users, both corporate and consumer.
"The notion of a market for video clips and other bandwidth-hungry solutions like that has yet to be proven," Marshall said, adding that providers must be cautious. "One thing we do know is subscribers always surprise us."
As for the enterprise market, Marshall said companies are looking for increased speeds and a local-area network-like experience. While the market for wireless devices and services is primarily a consumer one, Marshall added that corporate users are still very important because they are among premium subscription users.
Higher Speed Hopes
Cingular and Lucent said the 3G UMTS technology, including Merlin U520 UMTS Wireless PC Modem cards developed by Lucent and Novatel wireless, will support high-speed data connections with a software-only upgrade to existing Lucent solutions. Lucent's Bell Labs, which first demonstrated HSDPA at the CITA Wireless trade show more than a year ago, has been a chief proponent of the high-speed data technology.
"Over the past few years, we've seen an increased demand for the kinds of advanced voice and data services that Cingular will be evaluating in the Atlanta trial," said Cindy Christy, president of Mobility Solutions at Lucent. "Lucent remains deeply committed to delivering the highest-quality UMTS and HSDPA solutions, and we're excited to be Cingular's vendor of choice as they undertake this trial."
Hearing About HSDPA
Yankee Group's Marshall said HSDPA does deliver performance improvements and is a key to keeping wideband CDMA competitive with CDMA 2000.
Fellow Yankee Group analyst John Jackson said the HSDPA technology does lend credibility to Cingular's 3G claims, adding that the high-speed data technology will play a prominent role in the transition to faster 3G service.
"It's going to be an acronym that we'll be getting very familiar with," Jackson told TechNewsWorld.