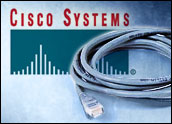 Adding incentive for companies to adopt its Internet Protocol (IP) telephony products, networking giant Cisco has announced new software and hardware to deliver broadcast-quality video and voice over IP networks.
Cisco said the addition of video will round out its IP communications offerings to allow a "rich-media videoconferencing experience" that is easy to use and manage. Touting more productive communications and better security, the company unveiled the new video telephony solution in conjunction with security enhancements powered by its own Architecture for Voice, Video and Integrated Data (AVVID).
While rival approaches typically rely on mixing IP with traditional PBX methods, Cisco claims the only way to reap all of the benefits of the IP solution is to use nothing but IP technology to do it.
"It's not an absolute requirement, but the main benefits to end users only happen when you do everything in the IP domain," Cisco director of product marketing for enterprise call control Hank Lambert told TechNewsWorld.
IP Plus Video
Lambert said that with its suite of products, including CallManager 4.0, Cisco IP PBX — and now the video capabilities of the new Video Telephony Advantage 1.0 — Cisco now can deliver to users a complete videoconferencing solution.
He added that mainly because of usability and manageability issues, Cisco videoconferencing is superior to what companies have historically used. With VT Advantage and CallManager 4.0, users can create instant face-to-face video calls with access to familiar hold, transfer and conference features of Cisco's IP phones, which, according to the company, currently have an installed base of 2.5 million users.
Cisco claims the flexibility accociated with IP-based networking helps the company provide better-quality video and sound than was previously available with earlier systems and technologies.
Easy as a Phone Call
Priced at US$5,995 for the CallManager 4.0 software and Cisco Media Convergence Server — plus $190 per user for the VT Advantage 1.0 USB camera — Cisco said VT Advantage interoperates with multiple desktop systems and competing room-based videoconferencing applications.
The system consists of a Cisco IP phone — working in conjunction with a personal computer and the Cisco server software — to deliver video telephony. Mobile communications giant Orange has tested the videoconferencing system in its Caribbean offices, and Orange CIO Patrick Raimond called it easy to use.
"It runs on existing desktop tools so you don't need to get used to a new machine, and it is relatively low on bandwidth," Raimond said. "The image is as clear as seeing someone in person, so it has already cut our travel cost significantly."
Face Value
Analysts have predicted big potential for VoIP and other IP communications technologies, including videoconferencing, but so far — because of problems with earlier IP-based communications quality — there has been only nominal mainstream interest. However, it appears that conditions may be right for the technology to take off, and Cisco, which reported positive feedback from beta testers, would like to take advantage of that momentum.
"The personal workspace is becoming increasingly media-rich as the industry moves toward integrated voice, video and data communication and collaboration," said Meta Group program director Chris Kozup.
"As user acceptance of the technology increases, the integration of video and telephony at the desktop is a natural evolution to enhancing the collaborative experience and improving the effectiveness of internal meetings," said Kozup.
Cisco said that while its CallManager 4.0 software and Media Convergence Server hardware are shipping now, its related MeetingPlace 8106 Rich Media Conferencing Server and software — priced at $69,995 — is set to begin shipping later in February. The VT Advantage 1.0 software for video is expected to ship in April, the company said.