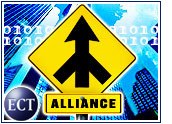 IBM and Cisco have announced an initiative to simplify data storage with a network-hosted storage virtualization system.
The two companies, which have collaborated extensively on storage area network (SAN) technology in the past, said IBM's TotalStorage SAN software tailored for Cisco's MDS 9500 directors and MDS 9216 switches will help cut the complexity and cost of SANs by creating a single point of control and management for multiple storage subsystems.
Forrester senior analyst Anders Lofgren told TechNewsWorld that the Cisco-IBM solution marks a trend toward placing additional functionality into storage network switches. While he said volume management in the switch does make sense, some functionality is not appropriate at the network-component level.
"Certainly, there's a movement toward moving some of this stuff in the switches," Lofgren said. "You couldn't put all the functionality in the switch, though. In many cases, you wouldn't want to stack applications on the switch because of performance."
Smarter SAN
IBM and Cisco said the network storage system will enable administrators to consolidate or "virtualize" multiple, disparate storage subsystems, allowing the use of lower-cost storage hardware for applications or business functions.
By provisioning storage from SAN switches, according to the companies, users will be able to avoid taking servers or storage subsystems offline to make changes.
"This is not the rip-and-replace, remove-the-data [strategy] anymore," IBM manager of strategy and software storage Jeff Barnett told TechNewsWorld. "All of that happens under the covers in the storage arrays. Upgrades can be done to the virtual layer, and you can do data movement without impacting servers."
Market Ready
Lofgren said that storage network management — such as the volume-management functionality that is part of IBM's Volume Controller software — increasingly is being incorporated into switches by networking vendors including Cisco and rivals Brocade and Veritas.
Barnett said that although end users now have a choice between the appliance approach or switch-based functionality, IBM and Cisco expect customers will realize that virtualization needs to be a core part of the SAN in the future.
"When we talk to storage customers, the SAN foundation leaves a lot to be desired," Barnett said. "The virtualization gives a level of flexibility and improved utilization. We believe the market is ready and primed for this."
Switching Approach
While Lofgren said that Cisco and Brocade both have been working with several different vendors to add functionality to their switches, Barnett said the IBM Volume Controller software was a perfect match for Cisco's MDS 9000 directors and switches.
"We worked jointly on having our software on their architecture to leverage the caching services model," he said. "The end result is the same [as an appliance], but now we take advantage of the caching efficiencies of Cisco's architecture."
Referring to the prevalence of SANs in corporations, Barnett said there is a clear need in the industry for a more efficient and flexible solution. "I think we'll see customer adoption accelerate quickly," he said.
Lofgren said customers will seek to add functionality into the fabric of the network via switches and directors, but he added that it will take time for the technology to seep into the SAN.
"[Customers] are going to pick and choose functions that make sense, but they are very likely to move rather slowly because it's a new thing," Lofgren said. "I don't see it happening until the second half of next year. Really, for customers, it's more into 2005 that it will become more applicable for the end user."