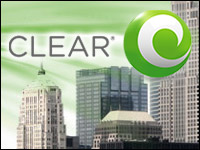 Clearwire said Wednesday that it intends to add "LTE Advanced-Ready" technology to its 4G network. The announcement follows the successful completion of 4G tests that clocked download speeds above 120 Mbps. The deployment is subject to additional funding, the company said.
Clearwire also reported its second quarter financial results and posted net wholesale subscriber additions of 1.5 million, representing 31 percent sequential growth.
Clearwire achieved a record pro forma revenue of US$293.7 million, up 151 percent from last year. The 4G provider also saw an $85.7 million sequential improvement in pro forma adjusted earnings before interest, taxes, depreciation and amortization.
The company's stock plummeted 28 percent after the announcements. Sprint owns nearly half of Clearwire and has been using its WiMax technology to power mobile broadband to its customers. However, it recently announced a long-term partnership with another provider, LightSquared.
Sprint's multi-modal "network vision" base station plan could possibly allow support from LightSquared, as well as Clearwire and others. However, Clearwire's future is far from certain.
Clearwire's initial implementation of the LTE technology will be targeted at densely populated urban areas where 4G demand is already high. The LTE 4G network is set to become the company's wholesale offering to other carriers, and there is no word yet on Sprint's interest in the upgrade.
Long Time Coming
Upgrading to LTE could be an important step for Clearwire, opening doors into the global mobile ecosystem.
"To me, this is no surprise. Clearwire has been talking about going LTE for a while, and they have the spectrum to do it," said Philip Solis, research director for mobile networks at ABI Research.
"They are going to LTE. They could also tweak the software to LTE Advanced. They want to be a part of the global ecosystem that will require LTE," he told TechNewsWorld.
An upgrade to LTE would also give Clearwire a chance to move beyond Sprint and into the open market.
"They joined WiMax at first because that was what everyone wanted," said Solis. "But now there are more devices involved in LTE. With that technology, Clearwire will be compatible with other wholesalers they can sell to. Right now, they're basically selling only to Sprint."
The adoption of LTE technology is key for Clearwire.
"They have the spectrum, which is good," said Solis. "The only thing they don't have is capital, and that will be an issue as they move forward to LTE."
With more providers shifting toward LTE, Clearwire has to take action so it won't be left behind.
"WiMax will always be around," said Solis. "It won't disappear in the world or even in the United States. But it is going to shift away from a large number of mobile devices to fixed-use networks for enterprise and private networks. So it will be around, but it won't be heavily used."
WiMAX network technology will likely end up serving a boutique market of specialized customers.
It "will remain a niche and in the shadows of TD-LTE," predicted Neil Shah, analyst for wireless devices strategies at Strategy Analytics.
"WiMAX enjoys a tighter synergy with TD-LTE technology and will thus co-exist with TD-LTE and be strategically deployed in suburban and rural areas," he told TechNewsWorld.
Moving Beyond Sprint
The move to LTE will give Clearwire more oomph in the market, especially in the cities where mobile device usage is strong.
"By adding a TD-LTE network to its portfolio, Clearwire can leverage its strong spectrum assets and expand its wholesale offerings portfolio and hence the total addressable market, opening doors to newer prospective customers," said Shah.
"Clearwire's strategy is thus to build a parallel, denser TD-LTE network in targeted urban areas and sell this capacity to the customers who are facing capacity crunch in these high-data-consumption densely populated areas," he explained.
Clearwire covers a population density of almost 132 million, roughly 40 percent of the U.S. population. The company grew almost 365 percent in the last year, recording 7.6 million WiMAX subscriptions compared to last year's 1.6 million.
"The firm is sitting on a gold mine of spectrum and market opportunities, and it is registering healthy subscriber growth," said Shah. That may not last forever, though. "With competition cropping up in the LTE and WiMAX space, Clearwire has to first, improve its average revenue per user, and second, its profitability, to cover its future capital and operating expenditures," said Shah. "Otherwise, the future looks less bright."