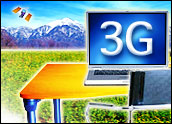 In an appearance at the Wireless Communications Association conference in Washington, D.C., Tuesday, telecom entrepreneur Craig McCaw announced his plans to launch a nationwide broadband wireless network using spectrum and technologies his holding company has been assembling over the last year.
McCaw's new venture, Clearwire, plans to deploy wireless networks across the United States, using equipment from other companies, including the recently acquired wireless broadband equipment vendor, NextNet.
NextNet's non-line-of-sight (NLOS) technology has been set up for over two years and is installed in 20 markets worldwide, including Mexico, Canada, the United States, Asia, Africa and the Caribbean.
McCaw plans to modify this existing platform with Clearwire's proprietary technology to power its IP-based wireless network.
National Network Planned
The launch of Clearwire marks the culmination of activity that has included the acquisition of several companies and the accumulation of licensed spectrum in markets throughout the United States.
Last month, McCaw acquired the wireless assets and name of Clearwire and appointed himself CEO and chairman. Despite the fact that Clearwire had only one trial network up and running, it had an exclusive agreement with the Instructional Television Fixed Services (ITFS) alliance, a coalition of broadcast license holders with spectrum dotting the 2.5 GHz to 2.7 GHz band.
McCaw now claims to have a large collection of the Microwave Data Systems (MDS) spectrum to feed his national network.
"We believe in the NLOS, plug-and-play technology that NextNet has developed and, in combination with our own proprietary technology, view it as an important part of our plans," commented Clearwire CTO Rob Mechaley. "This technology is being used today, and is delivering on the promise of WiMax services. We have a second-generation chipset in the market now, with a third generation planned for next year. We intend to be very involved in the future evolution of the technology as we look to expand the services we can provide."
'Rural Friendly'
Clearwire is slated to begin offering wireless broadband commercial services this summer, beginning in Jacksonville, Florida, and St. Cloud, Minnesota. According to the company, its "plug and play technology" will require no "truck rolls" or software downloads, and will enable a customer typically to be online within 15 minutes.
"We expect the Clearwire service will become a competitive option to current cable and DSL solutions and, in some rural instances, may be the only meaningful viable broadband access choice a customer may have," McCaw remarked.
McCaw plans to expand the company's service area into additional markets over the next year, both in the United States and internationally.