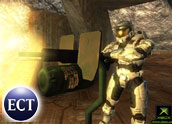 Marking the fifth anniversary of its release, Microsoft Game Studios and Bungie Studios celebrated the birthday of the Xbox video game "Halo" by releasing the beta version of its latest sequel, "Halo 3." The Xbox Live public pre-release precedes the game's final version, which is scheduled for availability in spring 2007.
Microsoft Game Studios and Bungie also confirmed Wednesday that consumers will be able to preview the "Halo 3" experience via a 60-second teaser ad that will air one time only on ESPN's "Monday Night Football" Dec. 4.
Quenching an Insatiable Desire
"The 'Halo' Nation has a nearly insatiable desire," said Jeff Bell, corporate vice president of global marketing for the Interactive Entertainment Business at Microsoft. "We hope a taste of advance 'Halo 3' gameplay satisfies some of their appetite as we count down to the game's launch later in 2007."
Expanding on the "Halo" franchise, the final version of "Halo 3" will provide a number of technical and gameplay advancements exclusive to the Xbox 360 system. In the meantime, via the Xbox Live multiplayer public beta, gamers worldwide will be able to play "Halo 3" online and participate in its development. Through the resulting feedback, Bungie Studios expects to further refine the game's ultimate release version.
Chapter Three
Unveiled earlier this year at the Electronic Entertainment Expo in Los Angeles, "Halo 3" represents the third chapter in the "Halo" trilogy, an action series that has sold more than 14.7 million units worldwide, generated nearly US$700 million in sales, and logged in excess of 800 million hours of Xbox Live gameplay.
The special 60-second "Halo 3" advertising spot that will air on ESPN was created by advertising agency McCann Erickson, and should provide viewers with a unique look at Master Chief and the world of "Halo 3." The television spot will also be available for download exclusively for Xbox 360 users via Xbox Live Marketplace.
Microsoft Game Studios and Bungie Studios say that all-new multiplayer maps for the predecessor to "Halo 3" — "Halo 2" — will be available for download through Xbox Live Marketplace in Spring, 2007.