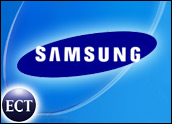 Samsung Electronics announced Tuesday that it has developed a mobile phone equipped with a camera featuring the world's highest resolution for any camera phone. The South Korean electronics firm said the camera will initially be sold in its home market.
Samsung's SCH-B600 model has a 10-megapixel camera that enables users to watch satellite-based digital multimedia broadcasting (DMB).
The model was first unveiled during CeBIT 2006, the international technology show held in March in Germany.
The handset, which is priced at 900,000 won (US$939.95), will be sold through SK Telecom, South Korea's largest mobile phone operator.
Samsung has previously offered 7-megapixel and 8-megapixel camera phones.