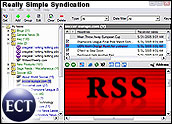 Newsgator Technologies, an RSS platform company, has entered into a multi-year partnership with Tokyo-based, IT services company Agrex to bring a localized, behind-the-firewall version of the Newsgator Enterprise Server to Japan.
The Newsgator Enterprise Server (NGES), which can be integrated with Microsoft Exchange and Lightweight Directory Access Protocol (LDAP) servers such as Active Directory, is a product for aggregating, reading and distributing RSS content within the enterprise.
Newsgator had previously announced an agreement with GMO Group to launch a hosted version of the NGES in Japan, which is currently the world's second largest market for blog and RSS-related activity, according to measuring firm Technorati.