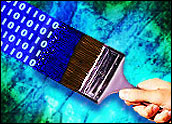 Corporations have typically relied on color laser printers for large, complex printing jobs, but the cost of these devices has tended to be too high to deploy them in small departments. That has been changing: Pricing for these devices have been falling and as a result more and more organizations are beginning to deploy them in small workgroups.
Printers carry the earmarks of a mature market. While unit sales have been stagnant during the past few years, competition remains intense. Brother Industries, Dell, Epson, Hewlett-Packard and Lexmark are some of the vendors vying for a larger slice of the printer pie, but makers have suffered with declining product pricing and margins. Consumers, however, have benefited with the availability of lower-cost, better quality systems.
Price Paramount
As companies examine their printing options, price is the first item of interest. Low prices have been the reason why inkjet printers, which cost as little as US$50, are the best-selling devices. "Traditionally, the average purchase price for an inkjet system was 30 to 100 percent lower than that of a laser," stated Jake Wang, a senior analyst with market research firm Current Analysis. In fact, inkjets have been so cheap that many hardware manufacturers bundle them with their computers.
While inkjets rule the overall market, they come with limitations. Even today many inkjet printers are still not designed for networks and lack internal network interface cards; making this upgrade can add 20 to 50 percent to the purchase price. Inkjets are not recommended for high-volume printing because their output quality and speed are not as good as laser printers.
While firms can be enticed by inkjets' low purchase prices, they often find the ongoing maintenance costs difficult to absorb. Inkjet cartridges can dry out when not used. Companies may purchase printer cartridges early in the year and find that they have dried out as users try to use them a few months later. Inkjet cartridges are expensive, priced from $20 to $100 depending on make and model. In general, the cartridges do not last as long or print as well as those found with laser jet printers.
Speed, Convenience
For those reasons, monochrome laser printers have been quite popular among companies. These printers use technology that is similar to the photocopier; their printing drums roll through a cartridge of dry-ink powder (called toner), heat the powder, and then rub it onto a sheet of paper. Usually, laser printers come with built-in Ethernet interfaces and support for TCP/IP, which virtually ensures connectivity within heterogeneous networks. Most of these printers feature driver support that spans the broad spectrum of Microsoft Windows operating systems and often extends to Apple Computer's MacOS.
Speed is a major attraction with laser printers. At the low end, these devices operate at speeds of eight to 10 ppm (printed pages per minute) to 50 to 60 ppm for high end devices, which are about twice as fast as inkjet systems. Print quality has been a laser printer attribute. Printer drivers offer various levels of flexibility in adding special features, such as watermarks, set borders, media types, and posters.
Maintenance costs are another attraction with laser printers. "Since they were designed for high volume environments, laser printers have low maintenance costs, from one half to a third that of ink jet printers," Keith Kmetz, a research manager at market research firm International Data Corp. (IDC). As a result, laser printers have been quite popular in administrative offices where employees print reports, mass mailings, and multi-page documents.
A few years ago, the choices for the type of laser printer were as simple as black-and-white. Prices for the more sophisticated printing functions, such as the ability to print color or produce photo-quality presentations, were high, starting at the $1,000 mark and working their way up.
Dramatic Drops
Fortunately, that has been changing. "We have recently seen dramatic price drops for laser printers," said Current Analysis' Wang told TechNewsWorld. "Users can now find color systems for a few hundred dollars."
The lower prices are attracting more users: IDC expects sales of monochrome laser printers in the United States to be flat in 2005 while color laser sales should rise by 20 percent. The Tyler School District plans to put Xerox Phaser 6100 color lasers — at a cost of about $500 each — in its classrooms as part of a $96 million computer upgrade to its buildings and computing infrastructure.
"We felt that prices for color lasers were low enough and the benefits great enough, so it made sense for us to use them rather than monochrome printers," John Orbaugh, director of Management Information Systems at the school.
While the growth is significant, color lasers still hold only a minority market position. "Monochrome systems had been outselling color lasers by a margin of about 10 to 1 during the last couple of years, but I expect the split to be about 70/30 split in the next few years as color laser pricing continues to fall and it becomes easier for users to justify these purchases," concluded IDC's Kmetz.