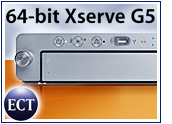 COLSA Corporation has purchased 1,566 dual-processor 1U rack-mount 64-bit Xserve G5 servers from Apple to build a new supercomputer that the company hopes will be one of the fastest in the world.
The supercomputer, named MACH 5, is expected to deliver a peak performance capability of more than 25 teraflops at a cost of US$5.8 million and will be used to model the complex aero-thermodynamics of hypersonic flight for the U.S. Army.
"We expect MACH 5 to rank as one of the most powerful supercomputers on the planet," said Anthony DiRienzo, executive vice president at COLSA Corporation.
Number-Two Supercomputer?
"According to the November 2003 Top 500 supercomputer list, it would rank second only to Japan's $350 million Earth Simulator computer at less than two percent of the cost," said DiRienzo. "We evaluated PC-based proposals from other vendors but none came close to delivering either the price, performance or manageability of the Apple Xserve G5."
"Apple is honored that COLSA chose the Xserve G5 to build their supercomputer cluster," said Philip Schiller, Apple's senior vice president of worldwide product marketing.
"The groundbreaking 64-bit performance and incredible I/O capabilities of the Xserve G5, combined with the reliability and scalability of our Unix-based Mac OS X Server software deliver high performance computing solutions perfect for anyone looking to cluster from two to thousands of nodes, at an unbeatable price."
Going Online in Fall 2004
The Xserve G5 supercluster system is expected to be online and working for the Aviation and Missile Research, Development and Engineering Center (AMRDEC) division of the U.S. Army Research and Development Command by late Fall.
This acquisition is the second phase of a multiyear COLSA program to create a center of excellence in Huntsville, Alabama for high-performance computing.
Through the efforts of Senator Richard Shelby, a long-term supporter of bringing this advanced capability to Huntsville, the new system will benefit both the U.S. Army and NASA for the National Aerospace Initiative and their research-and-development objectives.
Apple's dual-processor 64-bit Xserve G5 server delivers 30 gigaflops of processing power per system, according to the company, which is about 60 percent more than the PowerPC G4-based Xserve.