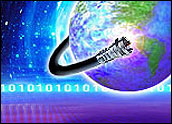 Facing competition from the more widely available and less expensive DSL broadband Internet connections, Comcast has announced a speed increase in its residential cable broadband service.
The cable giant said the speed bump — which increases the current 3 megabits-per-second download speed up to 4 mbps and the current 4 mbps service up to 6 mbps — paved the way for a suite of new online services that includes gaming, music and movies.
Analysts said that the move was both a response to DSL's gains, which have been aided by increasing speeds and lower prices, and an effort to maintain the differentiation between cable and DSL broadband.
"There have been gains for DSL, and not so much because of speed, but because of price," Meta Group senior analyst David Willis told TechNewsWorld. "This [speed increase] is what [Comcast is] doing to avoid a price war on a strictly broadband basis."
Cable Differentiation
Comcast said the strategy was a repeat of its previous speed-based performance increases, including those last year and in 2003, when the company upped its downstream speed from 1.5 mbps to 3 mbps.
The most recent increases will be automatic for existing customers, who will not have to pay additional fees for the faster services, Comcast said.
"We will continue to differentiate our service in 2005 by introducing innovative built-for-broadband applications that leverage the power of our 100 percent Pure Broadband network and provide value in our six key customer areas of interest: communication, music, movies, gaming, sports and kids," said a statement from Greg Butz, Comcast Online's vice president of marketing and business development.
Instant Video
Comcast outlined new features and services that would be facilitated by the higher downstream and upstream broadband speeds. The upload speeds are increasing from 256 kilobits per second to 384 kbps and from 384 kbps to 768 kbps, the company said.
Among the highlights: video mail that allows customers to create 45-second video messages with a PC and Web cam; PhotoShow Deluxe for multimedia slideshows; high-speed fantasy football and video games on demand; and expansion of the Comcast Music Channel.
The company said its 2005 roadmap was largely a fusing of video into both new and existing applications, including new video instant messaging.
Price Priority
Meta Group's Willis said that although customers may not be completely in tune with the speed of their broadband services, Comcast's speed increases should help the cable company differentiate its service.
Although cable suffers more frequent outages, Willis stressed that this is not a deal-breaker for most consumers.
"The typical residential customer can live with the service quality they get," he said. "Customers don't generally care about quality unless they're having problems."
At the same time, Willis downplayed the impact of Comcast's speed increases, indicating that cost is king for consumers.
"They are looking for cheaper broadband," he said. "They will listen to claims on quality, but they're really looking at price."
Telco Trouble
Willis said DSL will likely continue to gain customers based on price, while cable continues to be viewed as the faster service.
The analyst indicated DSL providers are unlikely to match cable company speed upgrades.
And new fiber connections from cable companies will add challenges for the DSL players. "When they roll out new fiber, then the discussion shifts to how to fill the capacity," he said. "How aggressive will they be in voice? Comcast is a huge threat to the telcos."