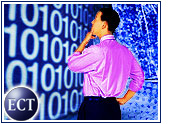 While event organizers have called it a postponement and vowed to bring it back stronger and better in 2005, the cancellation of the Comdex IT trade show in Las Vegas this November marks the official end to an era.
MediaLive — which bought what was the premier trade show in IT last year despite sagging attendance by vendors, buyers and others — said this week that a Comdex show this year would not benefit the industry because of lack of support from the leading technology companies.
Analysts who attended past Comdex conferences told TechNewsWorld that the end of the show, which delivered big deals and big news in its glory years of 200,000 attendees, coincides with a change to a more mainstream and segmented IT industry.
"The old, gray lady takes a powder," is how Yankee Group senior analyst Dana Gardner described the Comdex cancellation this year. "In its heyday, it really was the premier event. It certainly was an innovative idea at the time it was created," Gardner told TechNewsWorld. "It didn't always seem like a good fit, but the geeks and the propeller heads got together and had a good time and bonded. That was important."
Postponed for Planning
MediaLive, which announced the conference had been "postponed in order to reshape the event with the cooperation of IT industry leaders," said the scheduled show this November could have been profitable, but was in need of better company support.
MediaLive said it has established an advisory board with representatives from AMD, Borland, EMC, Microsoft, Oracle, Samsung, Cisco, Dell and Intel to assess the value of an industry event and recommend changes for Comdex, which is next scheduled for November 13 to 17, 2005.
"We firmly believe the US$915 billion information technology industry needs an event where the leading technology companies can speak to their global customers on neutral ground, buyers can compare all their options at one time, and thought leaders can discuss and debate the industry's future," said Eric Faurot, vice president and general manager for Comdex.
End of an Era
IDC vice president Roger Kay, however, felt that the cancellation of this year's event amounted to the end of Comdex.
"The point is that they ruined the rhythm of it," Kay told TechNewsWorld. "It's finished. If they aren't gonna do it, they aren't gonna do it."
"There's a sense this is a great era coming to a close," Kay added, referring to other conferences and events that have been connected to Comdex and have relied on the Vegas meetings to coattail on the once blockbuster IT event.
Yankee Group's Gardner, who said he attended six or seven of the Comdex events, agreed that the show's cancellation emphasized the change from a niche industry to one that is now central to corporations and consumers.
"It's the end of an era when IT was run by a relatively small group of people and companies," Gardner said. "That era is now officially over. It's no longer a niche business, it's a part of all business."
One Show Doesn't Fit All
Gardner said a "perfect" storm of factors such as tightened travel budgets, declining show profits and the increasing expense of Vegas — where the show got crowded at times — combined to cause the show's decline.
Gardner also said that the mainstreaming and splintering of the IT industry made a single show less applicable. However, the analyst added that the Comdex show served its purpose valiantly.
"When it was hot, it was hot," he said. "You had fun, worked your butt off and met a lot of people. When it was done, you were glad it was over, but you would always sign up for next year."