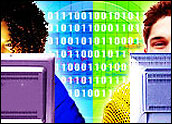 Despite lacking a legal requirement to comply with government surveillance rules, Time Warner is reportedly among major cable operators working to follow the controversial Communications Assistance for Law Enforcement Act (CALEA), which the FBI has recently argued should apply to Web-based, Voice over Internet Protocol (VoIP) communications.
Critics of the FBI's request, now before the Federal Communications Commission, contest that Internet communications, including voice and other data exchange, are information services that are not covered by CALEA, which mandated that previous telecom networks, such as the telephone system, include built-in surveillance abilities.
Nevertheless, cable companies are looking to comply with the law enforcement act, perhaps to avoid further regulation by the FCC, according to some industry and legal observers.
"The whole theory of the request by law enforcement is that industry is going to have to be forced to implement interception capabilities — that they won't do it on their own," said Stewart Baker, a technology law expert and partner with Washington, D.C.-based Steptoe & Johnson LLP.
"The Time Warner story is consistent with everything I've seen," Baker told TechNewsWorld. "Industry doesn't want to create a haven for criminals and will build in interception capabilities. They've been very responsible."
Preemptive Compliance
While Time Warner Cable was named in at least one report on CALEA compliance, the company could not be reached to confirm or deny its action. However, VeriSign senior vice president for CALEA compliance Raj Puri told TechNewsWorld that his verification and security company is working with several cable, DSL and wireless broadband Internet providers to comply with the interception rules.
VeriSign plans to announce a major cable company as among its CALEA compliance customers using VeriSign's Net Discovery solution, which Puri said is being offered to both traditional wire-line providers as well as packet network providers, meaning Internet carriers.
"We're definitely seeing a lot of renewed interest over the past 60 days," Puri said. "It's definitely being driven by the FCC rule on this."
Law Doesn't Apply Yet
Industry appears to be on both sides of the issue, according to Puri, who said some companies want to comply to avoid regulation while others are calling for some regulation to ensure law-enforcement capabilities as well as industry balance.
Baker said that although industry might not be building in surveillance and interception capabilities exactly the way the FBI wants, they nonetheless are willing to assist investigators wholeheartedly, provided there are proper legal procedures.
"First, nobody wants to become the favored communication medium of the mafia and build a system that is completely wiretap proof," Stewart said. "[ISPs] are not covered by CALEA, and they shouldn't be. I don't think the law was written to cover them."
Still, Baker indicated, CALEA provides for extension of its rules once a service is serving as a substitute for the old telephone network, a status those in the VoIP industry believe they will achieve.
FBI Fouling Innovation?
There is still no shortage of resistance to CALEA's application to the Internet, particularly from groups such as the Center for Democracy and Technology, which published a position paper on CALEA and VoIP this week.
CDT staff counsel Lara Flint told TechNewsWorld that most Internet access providers want to work with law enforcement to cooperate in any way possible, but the real issue is what the FBI is asking the FCC to mandate:
"That being the Internet and all of its many applications — whether voice or other communication — be built or rebuilt such that they meet FBI specifications," Flint said. "What's most astounding about the FBI's proposal is a request for some sort of FBI preapproval of communication technologies as they relate to the Internet.
"Innovation cannot go on if the FBI becomes the entity that approves or disapproves of technologies before they are deployed," Flint added.