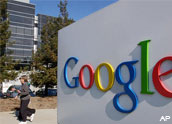 Internet search and content giant Google, known as one of the top aggregators of news and other information online, has been sued by Agence France Press (AFP) for allegedly publishing copyrighted content without permission.
The French media publisher — which is seeking more than US$17 million in damages and an injunction barring Google from further publishing its news stories and photos — took its action in U.S. District Court for the District of Columbia last week.
The suit follows Google's defeat in French court last month over trademark infringement allegations from designer Louis Vuitton, despite the search giant's victory in a similar case in the U.S. involving insurance company Geico.
Unanswered Questions
The Google News site aggregates and indexes the headlines and first few lines of news stories from more than 4,000 sites. Users who click on the headlines are sent to the site of the original publisher.
Phil Albert, an intellectual property attorney and partner with the San Francisco law firm Townsend & Townsend & Crew, told TechNewsWorld the case was somewhat surprising, given that most publishers are eager to have their headlines posted on Google's aggregation sites and the ability of organizations to opt out of the news feeds. The opt-out feature was cited by Google in response to the suit.
"That's far from new — sites making the point that [they] want to be able to charge for [their content]. The interesting thing is, why didn't they work this out?" Albert said. "It's kind of straightforward. Most people want to be indexed through Google." He also noted that sites such as the Wall Street Journal makes their headlines available on Google but charge readers for the privilege of reading the full text of the stories.
Reportedly WarnedIn its court filing last week, AFP reportedly argued that Google was willfully reproducing its headlines, story leads and photos without authorization from AFP, as required by copyright law.
AFP went on to argue that Google had been informed of the alleged infringement, yet ignored requests to avoid the publication of AFP's copyrighted content. A similar suit, which is ongoing in U.S. District Court in Los Angeles, was brought against Google by pornography publisher Perfect 10 last year.
Albert said he did not know the specifics of the AFP case, but said there seemed to be a dispute over the facts, given Google's claim that publishers could easily opt out of its aggregation service.
Internet Publishing Precedent
John Bace, vice president and research director at Gartner, told TechNewsWorld the case involves both the tech industry's rapid advancement amid antiquated legal rules and the complications of the world's jurisdictions connected by the Internet. "In many ways, technology is just outpacing the current legal system," he said.
The analyst, who is studying IT law, said AFP might have a difficult time with its suit because of the various jurisdictions that are involved.
American Internet publishing and copyright cases in recent years have largely depended for precedent on the Total News case of more than five years ago, in which the courts held that permission to publish is required if companies present content online inside their own window or under their own logo.
"That's why no one does that anymore without permission," Albert said.
While Albert was surprised the two parties had not come to agreement before heading to court, he said the case is unlikely to require or result in any new law.
"The courts are going to need to sort it out," he said. "It seems pretty simple, but since it's Google, it's news."