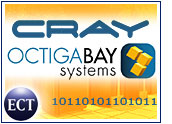 Supercomputing giant Cray has announced it is acquiring British Columbia-based OctigaBay to allow it to cater to the lower end of the high-performance computing (HPC) market, where prices typically run from US$100,000 to $100 million or more.
Seattle-based Cray said it will acquire OctigaBay in a deal approved by both company boards and expected to close within two months. Cray will exchange about 12.7 million shares and nearly $15 million for all outstanding OctigaBay shares in a transaction valued at about $115 million, the companies said.
Cray said the deal, combined with the rollout of its Red Storm system for the midrange HPC market, will make supercomputing more accessible to scientific and technical users.
"OctigaBay's product is designed with the same philosophy, yet targeted at a different market segment," Cray chairman and CEO Jim Rottsolk said. "The combined company will increasingly benefit from the growing realization that purpose-built HPC systems like Cray's are more efficient and cost-effective than general business computers for the high performance computing market."
Super Lower End
Cray said the OctigaBay 12K high-performance computer — built with a dozen 64-bit x86-compatible AMD Opteron processors for 58 gigaflops of processing bandwidth — will serve the low end of the market, from $100,000 to $1 million systems.
Cray will rely on the 10,368-Opteron-powered Red Storm System — originally engineered for the U.S. Department of Energy and now being turned into a commercial product to be priced at $1 million-plus — to serve the midrange HPC market, Cray spokesperson Steven Conway told TechNewsWorld.
"It is a significant shift because the company is going to be selling where we have not sold before, but it isn't so tough because the selling premise is the same: high bandwidth from top to bottom," Conway said.
IDC analyst Earl Joseph said the combination of OctigaBay and Cray could extend Cray's high-bandwidth designs into departmental and divisional market segments by providing high-performance capabilities for less.
"The combination of the two companies' product lines and the announcement in the fall of commercializing the Red Storm product allows Cray to address a market that is more than fourfold its current addressable market," Joseph said.
Bandwidth for Bottlenecks
Cray, which said OctigaBay product shipments are expected in the second half of this year, credited Octiga Bay's 12K high-performance computer architecture that embeds both high-speed interconnect and application accelerators to avoid bottlenecks.
AMD vice president and general manager of the microprocessor business unit Marty Seyer said the Cray and OctigaBay systems offer a different, high-bandwidth architecture that fully leverages AMD 64-bit, 32-bit performance and HyperTransport technologies.
Conway said Cray and OctigaBay's approach centers on balance and providing interconnect and bandwidth speed to match processor speed.
"With any of these systems, the fastest part of the machine is typically the processor," he said. "[Overall] speed depends on how fast the rest of the system can keep up and, when moving data around, enough bandwidth to keep the processor fully busy."
Cluster Competition
Despite the continued use of massive, monolithic machines for highly complex problems in defense, life sciences and other research, a new approach to high-performance computing in the form of distributed computing and clusters continues to gain traction for its cost and time savings, Yankee Group senior analyst Dana Gardner told TechNewsWorld.
Conway said that although clusters have "a very legitimate and important place" in the supercomputing market, there is a range of greater, more mathematically complex problems for which clusters are not capable.
Harvard Research Group vice president Bill Claybrook told TechNewsWorld that despite a trend toward Linux and other computer clusters to tackle supercomputing-like problems, there is still plenty of demand to build large supercomputers, particularly as researchers and nations compete for the biggest and fastest systems.