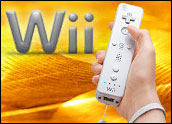 Enthusiastic Wii gamers know that it can be hard not to get carried away in play, but one consequence of the fun can be a damaged Wii Remote. With such players in mind, Nintendo on Monday announced the new Wii Remote Jacket, which is designed to add an extra level of protection.
The Wii Remote Jacket is a durable, silicone cover for the Wii Remote that provides a variety of benefits for the player, Nintendo said. Not only does it serve as a cover for the device, but it also provides cushioning for the Wii Remote for gamers who might accidentally throw or drop their devices while playing games.
Nintendo will include the Wii Remote Jacket with all Wii hardware systems and all Wii Remotes sold separately or packaged with Wii Play. Hardware featuring the Wii Remote Jacket will begin shipping to retailers on Tuesday and is expected to be on retail shelves the week of Oct. 15, Nintendo said.
Current Wii owners, meanwhile, can get up to four Wii Remote Jackets free of charge at Wii.com or Nintendo.com. The jackets will begin shipping the week of Oct. 15.
Strap Problems
Shortly after Nintendo released Wii last November, reports emerged that the remote's wrist strap was prone to breaking at inopportune times, causing the device to fly into — and sometimes damage — living room electronics and furniture. A lawsuit was even filed in December against Nintendo under the Washington Consumer Protection Act, though Nintendo quickly replaced the weak wrist straps with a stronger version.
"We're always looking for ways to improve our products and make sure everyone has a safe and fun experience," said George Harrison, Nintendo of America's senior vice president of marketing and corporate communications. "Many electronics manufacturers provide similar protective covers for products like cell phones, PDAs and MP3 players."
Of course, the Wii Remote Jacket is meant to supplement — not replace — the basic Wii game-play instructions, Nintendo noted. Specifically, players should always "keep a firm grip, don't let go of the controller, use the wrist strap and make sure your play area is free of people or objects," it said.
Extra Safety
For users who want to slip their Wii Remote into an accessory like the upcoming Wii Zapper, the Wii Remote Jacket is designed to be added and removed easily, Nintendo added.
"I think this is pretty cool," Ted Pollak, senior analyst for the gaming industry at Jon Peddie Research, told TechNewsWorld.
"Some people are careful, but some aren't; some have sweatier hands than others," he said. "This is good P.R., and it's probably good to add an extra bit of safety."