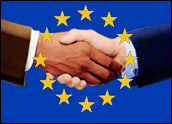 Microsoft inked a deal with a prominent French software company in an effort to broaden the market for product lifecycle management (PLM) software used in 3-D design and graphics.
The deal may also be another counter-move by Microsoft, which is facing an unfavorable position against the European Commission and a growing threat from Linux in the European market.
Industry observers indicate that Microsoft is taking a conciliatory pose with European regulators but may still face be forced to distribute a different Windows operating system in the region, which has become a major battleground for the software that powers government and industry.
"This is a sort of fill-in-the-blanks strategy," Yankee Group senior analyst Laura DiDio said of Microsoft's deal with prominent PLM vendor Dassault Systemes. "Maybe they want to do more in France because of the EU Commission," she told TechNewsWorld.
New Customers
Dassault Systemes president and chief executive officer Bernard Charles said the collaboration with Microsoft, financial details of which were not disclosed, was aimed at widening the market for PLM and 3-D collaboration software, which is used for design in the auto, aerospace, electronics and other industries.
The Dassault solutions — including Catia, Delmia, Enovia and Smarteam PLM software and SolidWorks 3D design software — will be integrated with Microsoft's .Net, SQL Server, BizTalk Server, SharePoint Portal Server, and Windows Longhorn and XP 64-bit products, the companies said.
"The winning combination of Microsoft .Net and Dassault Systemes promises to make product lifecycle management accessible and affordable to a whole new set of customers in the value manufacturing chain," said Microsoft chairman and chief software architect Bill Gates in a statement.
Union Unkind
Yankee Group's DiDio said Microsoft is facing a European Union that seems determined to pursue sanctions against the software giant at all costs.
"[The EU] is trying to be very implacable about this and I think they're going to give [Microsoft] a hard time," DiDio said.
DiDio, who indicated the usual anti-Microsoft sentiment may be reinforced by increased anti-American sentiment on the part of the EU Commission, said it would be counterproductive for the commission to force Microsoft to distribute a different operating system altered for anti-trust concerns.
"What's the point; it'll just sit on the shelves," DiDio said of a Windows XP devoid of features normally included with the operating system. "The get tough attitude from [the EU Commission] is not pragmatic or practical in a lot of ways."
Countering With Consolation
DiDio said although Microsoft is facing a European Union likely to be much harsher than U.S. officials — which settled over antitrust issues with Microsoft more than three years ago — as well as increased competition from Linux, the Redmond, Washington-based software maker is taking steps to avoid losses.
"It could get very severe, but what is happening is Microsoft is moving quickly to try to minimize the impact of these things," DiDio said.
The analyst referred to court settlements and kinder software licensing negotiations with partners as some of the measures Microsoft is taking.
"Microsoft is being as conciliatory as it can with the EU," DiDio said. "They're being as malleable and flexible as they can."
Referring to increased business value to customers now getting better deals from Microsoft, DiDio added that some of the negative sentiment against the company is changing.
"A lot of the anti-Microsoft stuff, which a few years ago reached a fever pitch, is now diminished," she said.