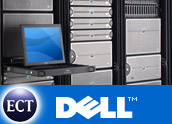 Dell announced along with its lackluster first quarter financial results this week plans to sell enterprise servers powered by Advanced Micro Devices processors.
The new high-end, multi-processor servers from the world's largest PC manufacturer will feature AMD Opteron chips and will be available before the end of the year, Dell said.
Despite past calls from industry watchers for such a move, Dell has resisted and remained loyal to Intel for all of its computing systems until now. With pressure from corporate customers who have found value in AMD processors, Dell had little choice but to offer some AMD products.
"This was a long time in coming," Endpoint Technologies Associates Founder and President Roger Kay told TechNewsWorld. "The [enterprise] community had been pestering them for years to take on AMD."
Time for a Change
Dell has consistently distanced itself from AMD in the face of customer calls for the chipmaker's components. The Round Rock, Texas firm, which acquired high-end mobile PC maker Alienware earlier this year, kept the Dell brand from appearing anywhere near a recently announced new Alien notebook, which runs on an AMD processor.
However, in Dell's first-quarter financial report this week, CEO Kevin Rollins said new AMD-based servers from Dell would be part of an effort to address a changing computer industry by "reinvigorating" the company's direct business model and providing better value and service.
"We are re-establishing our price position, investing in customer sales, service and support, building our product and technology leadership and improving our cost structure and productivity," Rollins said.
Welcomed on Wall Street
Dell's move is a recognition of the value that enterprise IT organizations have found in AMD's Opteron-based servers, which have until now been provided only by Dell competitors Hewlett-Packard, IBM and Sun Microsystems, among others.
The timing of Dell's AMD announcement was intended as good news to offset what was otherwise not so good news from the company's first quarter, Kay noted.
So far it appears as though the move is being well received; the news helped both AMD and Dell lift the tech sector in trading Friday.
"I think already the market is applauding it," Kay said. "It demonstrates adaptability and flexibility on Dell's part, and I think Wall Street is happy to see that."
Demanded of Dell
Although Dell downplayed its AMD plans, pointing out that only high-end servers were included, the move is nonetheless a significant development, and AMD took the opportunity to tout it.
"We welcome Dell, and Dell customers, to the world of AMD64," said AMD Senior Vice President Marty Seyer.
Echoing industry analysts, Seyer said the new relationship with Dell was something enterprise computer users demanded.
"Dell is a customer-focused company and we're pleased to see that they are listening to their customers and providing them the choice of innovative AMD products," he said.
Last Nut to Crack
Dell has been last of the big vendors to sell only Intel-based servers to the enterprise market, making its new offer of AMD products all the more significant, Semico Research Chief of Technology Tony Massimini told TechNewsWorld.
"All of the others offer both [Intel and AMD]," he said. "It's hard for Dell to completely ignore them at this point."
While Dell may have been the "last nut to crack" for AMD, Massimini pointed out Dell's intention to continue to offer servers with Intel's Woodcrest processor at the higher end.