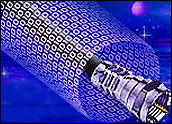 Cable giant Comcast increased the amount of attention directed toward broadband Internet services this week by announcing it had picked up nearly a half-million high-speed Internet customers in the last quarter — a 39 percent gain from last year's third quarter.
Comcast credited "integration success" for its gains in broadband Internet and video subscribers and increased its expectations for its number of high-speed customers to 5 million by the end of the year. Yankee Group senior analyst Dominic Ainscough told TechNewsWorld that Comcast's growth is not an anomaly because both cable and DSL broadband providers are seeing strong growth.
However, DSL service has been emerging from regulatory slowdowns and, with increased availability, now will pose a greater threat to cable by offering high-speed Internet connections for half the price of cable in some cases, Frost & Sullivan industry analyst Imran Khan told TechNewsWorld.
"I think now is the time the cable companies are going to face some strong competition from the DSL providers," Khan said. "DSL is catching up quickly in terms of availability. As they go out and make their service available to more people, they're going to pick up where [DSL] wasn't available or where the cable companies have not updated their networks."
If You Build It
Touting a momentum reversal in the markets where it took over AT&T's broadband business nearly a year ago, Comcast said it added 472,000 new high-speed Internet customers in this year's third quarter — a "terrific result," according to CEO Brian Roberts.
"Demand for our high-speed Internet service is stronger than ever," Roberts said, adding that Comcast hopes to secure 5.3 million high-speed Internet subscribers by the end of the year.
Khan said the company is doing several things to achieve this result, but the bulk of new customer acquisitions resulted from Comcast's US$2 billion to $3 billion investment in broadband services for new markets.
For his part, Ainscough attributed the Philadelphia, Pennsylvania-based cable company's success to aggressive marketing and promotions, bolstered speeds and value-added services, such as home networking.
Price Check
Comcast's indication that it will not lower its prices for high-speed Internet service highlights the two competing approaches of cable and DSL providers, according to Ainscough.
Cable companies are pursuing customers with promotional offers of lower monthly rates that increase after a period of time, reasoning that they can sell a compelling enough online experience that customers will not leave when the price goes up — in some cases to nearly $60 per month, Ainscough said.
DSL providers, on the other hand, are offering lower standard monthly prices, which dip near the cost of some dial-up services at $25 to $30.
"It's a battle of pricing models," Ainscough said. "Neither side is winning at this point."
DSL Goes Deeper
For now, Ainscough said, cable companies have managed to maintain their two-to-one subscriber advantage over DSL, with the latter making gains at a slow pace.
But Khan said DSL's gains are significant, and with higher availability — DSL now is available in more than half of all markets — companies such as SBC, Verizon, Quest, Sprint and other local services will challenge cable companies.
"If cable companies like Comcast continue to do what they're doing, it's going to be tough for them," Khan said. "The average telecommuter may pay $60, but the average consumer will not. It's definitely going to help the case of the DSL subscription."
High-Speed Derailment?
Both analysts agreed that cable and DSL providers are benefiting from solid growth in broadband services, but they cited regulatory concerns as among the most significant hurdles facing companies.
Referring to recent indications that cable companies might be forced to open their networks to competitors — as occurred with DSL providers — Khan disagreed with cable regulation at this point.
"The prices are already going down, and the availability is already increasing," Khan said. "The cable companies are not used to having wholesale-type agreements like the telcos."
Ainscough, who said regulations "wreaked havoc on the DSL side," added that the impacts of regulatory restrictions and requirements are long-term. He also said the prospect of cable companies being forced to open their lines to competitors comes after cable operators, including Comcast, have already built out their networks.
"The regulation is coming on the heels of the availability game that cable went through," he said.