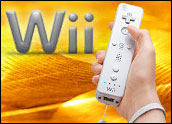 An announcement by Dutch game developer Engine Software that its first WiiWare game, "Project Bang," had the gaming blogosphere buzzing Wednesday about a March 2008 launch date for Nintendo's WiiWare, a game development and download portal, in Europe and possibly the U.S.
WiiWare is Nintendo's response to similar services already provided on Microsoft's Xbox Live and Sony's PlayStation Network. Both competitors have made their respective console's code available to independent game developers without big-time budgets.
The efforts are intended to expand the consoles' library of titles with new, original games that otherwise would never make it to gamers. In Nintendo's case, users will be able to purchase the games using their Wii Points and download them directly from the Wii Shop Channel.
'Incorrect and Unconfirmed'
The console maker had previously stated the service, part of Nintendo's Wii Shop Channel, would debut with the first WiiWare games in Japan alone in March 2008 but had not set a date for a rollout in Europe or the U.S.
A call to Nintendo seeking to confirm the European and North American launch dates were met with strong denials from the company that its plans had changed.
"This was an incorrect and unconfirmed release," Chris Olmstead, a Nintendo spokesperson, told TechNewsWorld.
Lost in Translation
Engine Software's announcement simply stated "Nintendo's WiiWare service is a new downloadable game content service that is scheduled to be launched in March 2008." Ruud van de Moosdijk, Engine's vice president of development, told TechNewsWorld that the company should have included the words "in Japan."
"The date of March 2008 as launch date for the WiiWare service is not based on any information we have received from Nintendo. We don't have inside information regarding the WiiWare launch date in any territory," he said.
"In many interviews with Nintendo, the March 2008 date was hinted at for the service's launch in Japan, so that's the date we mentioned. In hindsight the words 'is scheduled to launch in March 2008' were badly chosen … 'that will presumably be launched in March 2008 in Japan,' would have been a better — more correct — sentence," van de Moosdijk continued.
'Very Addictive'
The game developer acquired its official Wii license in October and said it has several games in mind for the service. "Project Bang," the game's working title, is the first game to go into production. It is a "casual game type with very addictive gameplay using the unique Wii Remote controller functionality and will support a two-player battle mode," according to Engine Software.
The company will release further details, including the game's final name and screenshots, as well as its future plans for the platform in the "near future," but no exact date was given.