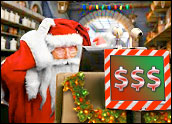 Digital Santa, Part 1: It's a Mall World
Steady mall work might be the bread and sugar-plum butter for many working Santas, but there are good fees and tips to be earned at Santa gigs — photo studios that invite Santa in for special portraits, kids' preschool events, private parties and more.
Today, old-style Santas just won't do for techie tykes who want their Yuletide magic plugged in and amped up with dynamic lighting, video, sound effects and interactive environments. Instead, the Santa experience has become a sophisticated show business art form and "Techno Santa" rules the season.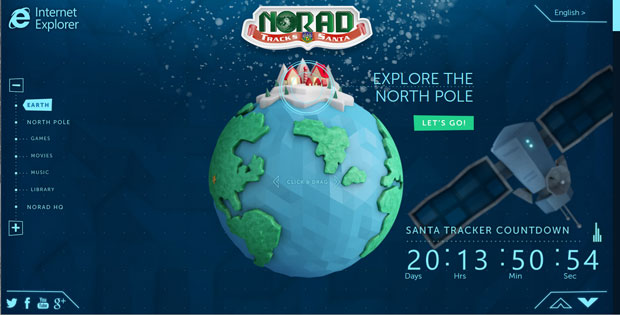 Today's Santas can be skilled professional entertainers — some are even members of the Screen Actors Guild. The best can keep hyper-busy and often overbooked November through December. Yet it's not an easy job. Forced to keep up or get out of the gift-promising business, Santa has added some helpful tech gadgets to his toolbox.
In the late '90s, that meant websites for informational and booking purposes; cellphones followed in the 2000s to help coordinate parties and other guest appearances. Today, Santa requires cutting-edge technology and sophisticated equipment based on microelectronics, telecommunications and even data processing.
Meet the 'Santapreneur'
"Santa Hollywood" Timothy Connaghan is a year-round entrepreneur in the business of Santa Claus. He has turned the Web into a platform to meet every imaginable Santa need.
Bicoastal in New York and Los Angeles, Santa Timothy heads up The Kringle Group, operating a plethora of websites as a business resource for all things Santa. Real Santas, Find a Santa, Santa Hollywood, Santa Visits, Premiere Santa, Holiday Street Productions, Santas Wardrobe, CasualClaus, School4Santas.com, International University of Santa Claus and Get A Head Start on the Holidays are all among the Kringle Group's online offerings, as are 34th Street Foundation, Memories of Santa, The Man in the Red Suit, the Red Suit Society and even Summer-Santa.
Through FindaSanta.com, for instance, The Kringle Group maintains a database — "the world's largest listing," it says — of professional Santas, plus Mrs. Claus and elves. Featured on the site are more than 400 Santas from The Kringle Group's master list, which includes more than 1,800 real-bearded Santas.
"It's a Google Maps-type Web mapping service," Santa Timothy told TechNewsWorld. "Punch your information into our custom software program, and you can get the Santa you want when and where you want him."
The average party rates for Santa in most locations range from US$175 to $300 for the first hour, depending on the Santa's experience, the location, time and day of week, and $125 to $200 for each additional hour. Half-hour visits for a small family are available on selected evenings for $75 to $200. For Christmas Eve, the fees for a one-hour visit range between $250 and $450 for the first hour and $100 to $300 for each additional half-hour — but who's counting when's Santa's coming?
At the Party or Event
Santa Ric Erwin has been a working Santa in Southern California since 2002. A professional entertainer, Santa Ric and his wife Victoria head up Ric-N-Vic Productions. Known as the Singin' Santa and Diva Claus, the couple entertains year-round, going full-time Santa and Mrs. Claus during the holiday season.
Santa Ric calls himself an "interactive event Santa." He can sing a song that rapidly recites the names of every nation in the world that Santa might visit on Christmas Eve.
Matters can get technical, however. According to Santa Ric, in a modern "Klaus Kit" you'll find tech elements such as GPS (helps Santa find where he's going — mostly to local pre-Christmas gigs) and Bluetooth wireless networking technology.
"On numerous occasions, I have used Bluetooth quite successfully to convince a room full of children that Santa really does know everything about them," Santa Ric told TechNewsWorld.
Santa Ric uses a compact Bluetooth ear bud. "JawBone is the best, with a price tag that proves it, but I've used an el-cheapo Jabra with great results," explained the gregarious pro.
Upon arrival at an event, Santa Ric calls the client's cellphone and leaves the line open while stashing his own phone out of sight. The children sit on the floor in front of Santa and Mrs. Claus as their parents slip out of sight and go upstairs or around the corner, identify their child by attire and/or location, then provide Santa Ric with name, age, grade/teacher/school, name an accomplishment to praise them for and something they need to work on.
"I've seen this act stun a restless group of children into silence — but I especially treasure the response from adults who didn't know what we were doing," Santa Ric said. "I've been followed out more than once by a grown-up demanding to know how the heck I just did that."
Other Techno Santas are decidedly less tuned in. No GPS system for Santa Jack Davis of Cuyahoga Falls, Ohio, for example.
"I'm kind of a low-tech — but not 'no-tech' — Santa," said Santa Jack, who has been playing Santa at private Christmas gatherings for more than 30 years.
"Actually, my most important piece of tech equipment right now is my portable battery charger for powering up my cellphone and iPod over a long evening," Santa Jack told TechNewsWorld.
"I know the iPhone and iPad can do everything the iPod does — and more besides — but I still like my old iPod," he explained. "I don't really need cameras and retina displays and WiFi — just good tunes for when I'm being Santa DJ. I've got thousands of Christmas songs on it and I put together custom playlists to keep things fresh each year. All I have to do at a party is plug the iPod into the docking station, select 'Playlists' from the iPod menu, choose the playlist I want, press the 'Play' button and start the music."
Santa Parents at Home
Professional Santas may be on Kris Kringle's cutting-edge, but parents are applying some Santa tech on the home front by using computer editing tools for photos (e.g., GIMP and Paint.NET) and videos (e.g., Windows Movie Maker and Kate's Video Toolkit) to satisfy questioning, technologically adept youngsters about the authenticity of the jolly old elf.
Digital special effects and tricks to show kids that there really is a Santa include layering his image on top of family photo or producing home-made videos that capture Santa in the act, reality-TV style.
Christmas phone apps include "Santa's Christmas Village" — which includes more than 13 games with holiday themes; "Christmas!!" which includes a Christmas countdown calendar and a small collection of holiday songs; "Good Food Festive Recipes," featuring more than 100 holiday recipes with photos and step-by-step instructions; and Salvation Army Christmas Music, "The Christmas List" — a free, full-featured list app with email support, address book integration, etc.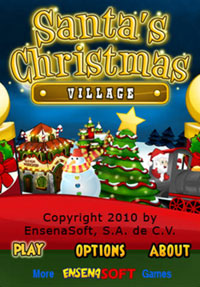 The Santa's Fun App from Cherry Hill Photo Enterprises, available for free download on the Android market and iPhone app store, lets children and families write letters to Santa and even receive his responses. The company designed MyHolidayMoments, its Christmas countdown app, to help families create a "portable Santa experience" using mobile devices. Users can retrieve a child's Santa photo on a smartphone or tablet to share with friends and family. Kids can also email Santa at the North Pole, play games, watch movie trailers and more, including tracking Santa's Christmas Eve journey.
The MyHolidayMoments app represents the company's strategy to connect with its retail customers before, during and after their visit with Santa, explained Ed Warchol, Cherry Hill Photo's president.
"We initially introduced our 'Santa Fun' app as a test with our largest client, and the positive customer feedback drove us to expand on it this year," Warchol told TechNewsWorld.
"The most important thing to remember is that the technology is just a continuation of the Santa experience," noted Warchol. "The Santa experience is as magical as ever."
Tracking Santa
Perhaps the best home-based Techno Santa experience of all is "NORAD Tracks Santa." This annual Christmas-themed entertainment program, which has existed since 1955, is produced under the auspices of the North American Aerospace Defense Command. Every year on Christmas Eve, "NORAD Tracks Santa" lets civilians track Santa Claus as he leaves the North Pole and delivers presents to children around the world.
On Christmas of 2012, NORAD used Bing Maps and Cesium — a JavaScript library for creating 3D globes and 2D maps in a Web browser without a plug-in — to show Santa's route in "real time." Cesium uses WebGL for hardware-accelerated graphics, is cross-platform and cross-browser, and is tuned for dynamic data visualization.
The tracker works on all browsers, including Internet Explorer. The 3D experience requires a Web browser such as Chrome or Firefox that supports WebGL.
Santa Ultra-Tech
Finally, it turns out that the sky is not the limit for Santa Tech.
Larry Silverberg, associate head of North Carolina State University's Mechanical and Aerospace Engineering Department, has thoroughly analyzed Santa's technological arsenal, and posited that it includes items few mere mortals are likely to possess. Included among them are a one-square-mile "listening antenna" for determining who's "naughty" and who's "nice"; a "relativity cloud" that enables Santa and his elves to deliver gifts over what they experience as a six-month time period but to the rest of the world is just Christmas Eve; and a "nano-toymaker," which grows the gifts under each tree to avoid hauling issues.
The nano-toymaker has a toy information database that is kept on the sleigh along with a remote control. The database contains toy-making instructions, while the remote control initiates the toy-making process. The device's remote control is pointed at toy making material placed under the tree, and a catalyst initiates a rapid crystallization growth process. The process is analogous to inorganic crystal growth of minerals, and snow, and the DNA-driven organic growth of biological organs, tissues and other body parts.
In The Truth about Santa: Wormholes, Robots and What Really Happens on Christmas Eve, author Gregory Mone explains more elaborate systems that make Santa's feats possible.
For instance, Santa's red suit is designed for the extreme conditions he encounters while traveling at warp speed and bending space and time, Mone suggests.
"Santa's suit is laden with what are called meta-materials," he explains, "which have the effect of bending light around a person so that they turn invisible." That, of course, "can come in handy if there are curious children peeking during his Christmas deliveries," he adds.
Santa doesn't have time to unwrap and rewrap all the presents, meanwhile, so he uses a "terahertz wave radiation scanner" to see through the wrapping and make out the shape inside, indicating which toys are already under the tree. That way, he can leave a different one.
All in a night's work.
Digital Santa, Part 3: Riding High on the Turbo Cyber Sleigh.