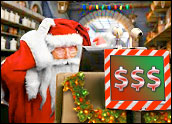 Digital Santa, Part 2: Tech Tools of the Trade
Flashing strobe lights, streaming LEDs, whining jet engines, a Space Shuttle's roar … this isn't your grandpa's Santa Claus sleigh.
Just about everyone has some mental image of Santa's sleigh — a hyperflux supervehicle drawn by high-flying reindeer genetically modified for delivering gifts and toys to girls and boys around the world, for instance. That's not even mentioning the adamantium-mithril alloy body, friction-free force-field propulsion system and stardust antimatter reactor — for those of us more imaginatively inclined.
The high-tech aspects of Santa's gear don't all have to be imaginatively inspired, however. Some real-life Santas have crafted high-tech sleighs of their own in the real world, and it can much more interesting than all the fictitious stuff because kids can actually see, hear and touch this sleigh.
'Why Not a Rocket Sleigh?'
The Cyber Sleigh is the handiwork of Kansas-based Santa Dick Conkling, who used his own, personal two-story home workshop to build his first turbo-cyber sleigh in the 1990s. Today, he's "flying" version 2.0 each holiday season.
Santa Dick's motorized sleds were born of the idea that when Santa comes to entertain the kids, he needs a big entrance — and an even bigger exit, he says. The Cyber Sleighs deliver on both counts.
"I used to set off rockets after a visit to show the kids that Santa Claus was leaving," Santa Dick told TechNewsWorld. "But after one came down where everyone could see it, I thought there had to be a better way? So why not a rocket sleigh?"
Cyber Sleigh 1.0: 'Turbo Sleigh'
The original Cyber Sleigh, launched in 1994, was built on the chassis of a 1985 Volkswagen Beetle car and equipped with a 1994 stock VW Brazil 1.6-liter Flat 4 engine. Santa Dick removed the body, and in its place he attached a plywood shell formed in the shape of a sleigh, covered in fiberglass and painted red. Decorative trim includes red, green and white chasing LED lights that pulsate to music. There are neon lights on the undercarriage, rope lights surrounding it and strobe lights on the back end. The interior is equipped with seats, a steering wheel, a dashboard and assorted controls.
The highlight of the sleigh is a 2,500-watt sound system with four amplifiers and 14 speakers connected to two CD players, one for music and one for the roar of a Space Shuttle launch — a wondrous, thunderous acoustical accompaniment to Santa's "takeoff" from the scene of an event.
In a driveway, departing Santa remotely starts up the music and lights before getting into the sleigh. Toys and loudspeakers disguised as gift boxes lift up hydraulically from a big green "toy bag" at the rear of the sleigh. As Santa pulls out of the driveway and roars off down the road with lights flashing, the sleigh pumps out spotlit flame-like vapor "smoke screen" plumes that pour from CO2 tanks in three rear "jet engines."
"It's a wall of sound from subwoofers and horn tweeters," explained Santa Dick.
As much as he liked his VW Beetle sleigh, though, Santa Dick had bigger plans.
"The day I finished the first one, I thought, 'I can improve on this,'" he said. "I wanted to build another one, but even better."
Cyber Sleigh 2.0
The new Cyber Sleigh took 10 years and US$80,000 of Conkling's own money from concept to launch, including ordering special custom parts like a dashboard, steering wheel and automatic transmission from far-flung sources. Conkling finished in 2007 and sold the original Cyber Sleigh to Santa Al Hodek of Santa Clarita, Calif., who rechristened it as the "Turbo Sleigh."
The all-new Cyber Sleigh, however — vanity license plate "SLEIGH" — is based on a VW microbus chassis and is powered by a 1994 Chevy Beretta 3.1-liter V-6 engine. Weighing in at 3 tons, the Cyber Sleigh is a few inches over 20 feet in length, 8 feet tall at its highest point and 7.5 feet wide. Santa Dick hauls the Cyber Sleigh to gigs in a 30-by-12-foot trailer pulled by a one-ton Ford Diesel pickup truck (license plate "CLAUS"). Naturally, all the vehicles are painted red.
For his second creation, Santa Dick kept the basic design of the original but went with a red and gold exterior and expanded to a four-door layout — two compartments with two doors each and roomy, comfortable wooden seats covered with plush foam topped by black vinyl-coated Naugahyde fabric.
"The back seat is for riders," said Santa Dick. "From time to time I escort friends or relatives and even dignitaries in parades."
The sleigh has seven deep-cycle gel cell batteries of the kind commonly used in marine applications. It also has two alternators — a 165-amp high-performance alternator just for the stereo and hydraulics and a second 100-amp regular car alternator that supplies electricity to one of the batteries that runs the vehicle.
Hydraulics lift the sleigh up into "hover mode," whereby all four wheels rise 8 inches above the ground and can spin in a driveway so that Santa doesn't have to back up the sleigh when he's leaving.
That, in fact, is when the real show begins.
In version 2 of his creation, Santa Dick doubled the power of the sound system from 2,500 to 5,000 watts and installed a single large headlight from a '32 Ford Phaeton — "the biggest I could find'," he said.
'Warp-Thrust' Jet Engine
In place of the toy and speaker/gift boxes he used in the back of the original sleigh, Santa Dick installed an enormous "warp-thrust" hot-rod-style simulated "jet engine" that is raised and lowered from within the body of the sleigh by a linear actuator used in place of hydraulics.
Modeled on a Learjet turbofan engine, the aluminum engine is a cone-shaped funnel containing some of the 22 building-rattling loudspeakers onboard the sleigh. With a push of a button on the dashboard, Santa activates a manifold system containing a high-pressure CO2 valve. This causes the jet engine to blow a huge CO2 vapor "fire trail" out the rear of the engine. Illuminated by 100-watt quartz halogen lights and buttressed by the sonic roar from the loudspeakers, the faux flames give the Cyber Sleigh the sound and appearance of a rocket ship blasting off.
Where Are the Reindeer?
If Santa's sleigh is blasting off, though, where are the reindeer?
"I tell the kids that I only use the reindeer on Christmas Eve," explained Santa Dick.
One "in the know" fan of the Cyber Sleigh is "Santa Hollywood" Timothy Connaghan, president of The Kringle Group, which includes the largest annual Professional Santa School in the world: International University of Santa Claus.
Connaghan has trained thousands of Santas and is the reigning Santa at the annual Hollywood Christmas Parade, so he knows a thing or two about putting on a good Santa show for parents and children alike.
He loves the Cyber Sleigh, in which he rode during the Santa Parade at the Celebrate Santa 2009 Convention and Expo in Gatlinburg, Tenn.
"I've personally gotten to fly with the Blue Angels," Santa Timothy told TechNewsWorld. "But the Cyber Sleigh is one of the most unique advances in Santa technology I've seen. It was quite an experience to listen to the crowd cheering and take in all the special effects — the sound of the jet engine winding up, thrust happening, ignition catching, white smoke billowing out of engine … amazing."
Turbo Sleigh Still Going
How is the original sleigh doing with Santa Al Hodek in Santa Clarita?
"With the Turbo Sleigh, I have everyone outside, and you can hear the music coming from the sleigh from blocks away," Hodek told TechNewsWorld. "When I turn onto their street, the children and their parents are just so excited to see Santa in a real motorized Sleigh, with red green and white lights pulsating to the music, it is just unbelievable. When I step down from the Sleigh I am more excited than anyone."
Many men play Santa, Hodek said. "I portray Santa. I become Santa. The Turbo Sleigh is a great tool for me to use to better the experience of the real Santa coming to their house. I feel the Sleigh helps the children believe that this is the real Santa. For me, whatever I can do to make this the best experience for the children, I will do it."