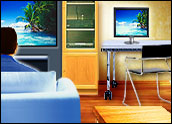 The U.S. Congress is plotting out the transition from today's over-the-air analog broadcast television to digital television — setting a 2009 date and the basic structure for assisting consumers who do not have satellite or cable TV service.
While these are necessary first steps, there are still a number of unresolved issues. One concerns who will pay for the upgrade to digital TV. Another question is whether over-the-air broadcasters would be allowed to multicast their advertising-supported programming, which would mean multiple program choices within broadcast channels and a heavier burden on competing cable providers.
No matter how such issues play out, tomorrow's free TV is likely to look a lot different than today's, and not just in terms of picture quality.
"There are incentives, but in the U.S. — with 85 percent of people subscribing to paid TV services — it's hard to see direct over-the-air TV service having much impact in the future," Yankee Group research director Adi Kishore told TechNewsWorld.
Time for a Change
Although it has not yet been signed into law, perhaps the most concrete component of the planned transition to digital television is a Senate-approved deadline of February 2009, by which all television broadcasts in the U.S. would have to be digital.
Another big issue in the transition is the upgrade of consumer television sets, which would require the addition of set-top boxes to receive the new digital signals. While Congress has signaled that it may aside around US$1.5 billion to help subsidize the transition, consumer groups have complained that the figure — which pales in comparison to the revenue from auctioning the old analog spectrum — would not be enough.
How the over-the-air television of tomorrow will be regulated is yet another issue. At present, cable providers remain unregulated, but they may be providing the same type of service as over-the-air broadcasters after the transition.
Lack of Strategy
While setting a date for the analog cutoff and allocating money for transition subsidies are necessary steps, Kishore noted, there are many remaining issues in the upgrade to digital TV.
"I think there's still some lack of strategy in how the transition is going to take place," he commented.
The 15 percent of Americans who do not subscribe to cable or satellite television services are not the only ones who will have to upgrade their television viewing equipment, Kishore pointed out, referring to cable customers with analog boxes.
Also at issue are whether broadcasters will be able to sell additional programming and how cable companies will carry extra digital channels for which they do not have the capacity, Kishore said.
Referring to the increasing opportunities to deliver television over broadband Internet connections, Kishore said there are a myriad of problems yet to be resolved in the transition.
Transition Will Happen
Regardless of the impediments, the legislated transition to digital TV will take place, Gartner analyst Laura Behrens told TechNewsWorld.
"Whether it will happen smoothly — and who will end up paying for it — remains to be seen," she said, calling the deadline and subsidy structure "only the first of several things that have to happen."
The biggest question may be "digital multicasting must-carry," or whether cable operators will be required to carry multiple interactive channels from broadcast networks, Behrens said.
"These bills don't address that at all," she noted, referring to the legislation currently under debate. "That is a huge part of how smooth the transition will be for broadcasters and what people will see come 2009."