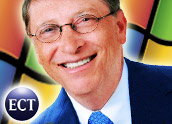 Bill Gates made a big announcement about a deal with TiVo, the digital video recording company, but it was the Microsoft head who might have wanted to hit rewind as his presentation crashed to a blue Windows screen during his Consumer Electronic Show (CES) keynote yesterday.
Gates, making the presentation with late night television host Conan O'Brien at CES in Las Vegas, outlined Microsoft's vision of a "digital lifestyle." The richest man in the world announced deals with TiVo, Bell South and others, but his presentation on using Microsoft software with Nikon digital picture technology froze up.
A product manager suffered a blue screen crisis later in the demonstration, this time with a Microsoft video game. And before the evening was over, a third Microsoft mishap occurred when a company representative was reportedly unable to get online using a Tablet PC.
Don't Try This at Home
Among Microsoft's newly announced consumer agreements were a deal to deliver TiVo recordable television to portable Windows devices, including smart phones and media players; a test of Internet protocol television (IPTV) with broadband provider Bell South; and a partnership with MTV for television programs and video on mobile Windows devices.
While Gates' keynote was aimed at promoting the latest Microsoft technology in consumer applications such as digital cameras, set-top boxes and games, the technical difficulties that occurred point out the immaturity of the technology, IDC analyst Roger Kay told TechNewsWorld.
"I think that actually is an indicator of the [media center] technology," Kay said regarding the keynote foibles. "I've been playing with it, and it's a little squirrelly. There's always something."
Kay said Microsoft is capable of addressing the issues, but added that the so-called "digital lifestyle" is still far from a mainstream reality. "It is not a seamless experience," he said. "It's not a consumer-level experience yet."
Code, Not Consumers
Kay also said that although Microsoft is trying to respond to the shift of market opportunity away from enterprise IT and toward consumers, the company is in unfamiliar territory in doing so.
"Most of the exciting developments are happening in consumer electronics," Kay said. "[Microsoft is] trying to respond, but history shows it's not really a consumer company."
Kay explained that while Microsoft has had success selling through partners such as IBM, HP and Dell, it does not have the direct relationship with consumers that competitors such as Sony have established.
"They're making various attempts to figure out what consumers want," Kay said. "Dealing with customers on a daily basis is not Microsoft's forte, though. They write software."
Partners and Power Failure
Yankee Group senior analyst Laura DiDio said the computer crashes that Gates and company experienced at CES are the same glitches that have befallen almost all top IT company presenters.
"I don't think it's going to have any long-lasting effect," she said. "They can blame it on a power surge, or a hardware problem."
DiDio pointed out that Microsoft is a "very desirable" partner with much to bring to the table in dealing with consumer partners.
"They're embedding Microsoft in Nikon digital cameras, announcing partnerships wth TiVo, Bell South and others," DiDio told TechNewsWorld. "That gives them a pretty deep arsenal to combat their competitors, chief among them being Sony."
While there have been reports of a possible Microsoft deal with Sony, Gates declined to announce anything.