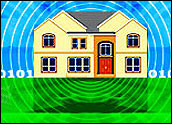 Microsoft and HP are teaming up to develop the high-tech home of the future. The two companies revealed their Innoventions Dream Home at Disneyland in Anaheim, Calif., this week. The home features some of the newest developments in communications technology and is now open for public tours.
Located in Disneyland's Tomorrowland, the Dream Home shows off systems ranging from practical to fantastical. In true Disney form, a fictional family guides you from room to room, giving you a full tour of the high-tech toys inside.
Instant Impressions
Even from the outside, this house is no ordinary abode. A touchscreen lets the imaginary family change the home's outer appearance in an instant, putting the idea of labor-intensive decoration to rest. Walking in the front door, computers recognize and greet every family member, dog included.
Using that recognition, the home then adjusts each room based on the preferences of the person entering. Everything from the pictures on the digital wall frames to the music being played and the temperature on the thermostat change for each individual person. Even books in this home are fully electronic and display dynamic library content.
"It's a really cool space because it's unlike other things I've seen," Ray Aldrich, HP marketing and programs manager, told TechNewsWorld. "A lot of times … technology visions of the future are kind of roped off with a guy giving you the demo and that's it. What's nice here is you've got a way to explore the entire space [yourself]," he said.
Magical Moments
Cutting-edge technology combines with Disney's signature magic to bring this entire home to life. Take the kitchen, for example: A virtual bulletin board lets mom keep up with the kids' schedules, and wireless connections let all the appliances communicate to eliminate the need for old-fashioned grocery lists. A virtual assistant named "Lillian" can even provide recipes and make new concoctions — without the hassle.
"It's a great example of the magic of Disney being applied to big technology companies like HP and Microsoft — taking a lot of our existing products and applying them in a special way in this environment," Aldrich said.
In the dining room, touchscreen technology lets family members interact with the table and view media content from their phones right on the surface. The living room, of course, features a fully equipped home theater system. The son's bedroom has an interactive Peter Pan experience that rivals any theme park attraction. And in the daughter's bedroom, a magic mirror provides the power to try out different clothes and hairstyles without lifting more than a finger.
Reality Check
While the effects are doubtlessly a Disney creation, much of the underlying technology is either currently available or soon-to-be-released.
"We really believe in developing what we call the digital lifestyle," Aldrich told TechNewsWorld. "We're excited to have Disney park guests come see this and explore this vision with us."