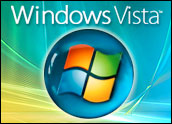 Three days have passed since Microsoft released its first service pack (SP1) for the Windows Vista operating system, but feedback from many users on the Vista Team blog point to a variety of issues with the software.
While the majority of commenters on the site reported no problems with the download and installation, a growing number of users have described issues ranging from the disabling of video and audio drivers to "blue screen" system crashes.
"I don't know how widespread the issues are. There are always issues with a Service Pack, especially within the first few weeks of availability. It's unclear whether or not there are more issues than average with this one," said Michael Silver, a Gartner analyst.
Microsoft must solve the problems before pushing SP1 to average users through Automatic Update in mid-April, he stressed.
Vista Maydays
Although forewarned of possible problems with Vista SP1 due to incompatibility issues with some drivers, a number of users have reported issues the software giant apparently did not foresee.
"I have installed vista sp1 today now i have no sound and my dvd drive does'nt work nice one microsoft… I can see that testing really worked now how can i uninstall it," wrote butters286.
Another user, SeppDietrich, encountered installation problems even after downloading the latest driver. "What a disaster! It exiled all of my Nvidia drivers to the Bermuda Triangle..they're simply all GONE. Okay, no big deal, go to the Nvidia site, download the latest drivers, install and nada.Zip, Zilch, Nothing changes. Windows Update keeps telling me I have an available update to install, an Nvidia update dated 12/7/07..which is OLDER than the Nvidia drivers I just lifted off their site.
"Even after uninstalling the update, "I *still* have no video drivers, can't even reinstall the latest from Nvidia after the uninstall and reboot," SeppDietrich continued.
Meanwhile, other early adopters of the service pack wound up with the dreaded "blue screen" that indicates a critical system error has occurred.
"I downloaded it via Windows Update, and got a bluescreen on the third part of the update. Took 5 hours to "revert to previous". So I downloaded the package version, and tried that. Same bluescreen. Same hours," wrote Iggy 23
In addition, the University of Pennsylvania recommended that its faculty and students not upgrade their computers to SP1. The school said it would support the updated OS as pre-installed software on a new system, but suggested "strongly" that others "adopt a 'wait and see' attitude" about the service pack and continue to use previous versions of Windows XP and Windows Vista.
Microsoft's Response
For its part, Microsoft maintains that it has done what it can and continues to work to resolve any problems users may be experiencing.
"We want our customers to have the best possible experience with Windows Vista SP1, so we have configured Windows Update to initially delay offering the service pack to PCs with these identified drivers until the issues are resolved," the company said.
"In order to deliver SP1 to these PCs, we worked with our partners to produce driver updates for the drivers that were reported to be problematic when updating to SP1. Updated drivers for the many of the issues found are available on Windows Update as 'optional' updates today. Ultimately, we will be using Windows Update to automatically deliver these updated drivers to PCs in advance of offering them SP1," Microsoft continued.
"We continue to work with partners to produce resolutions for several other issues," the company added.
Redmond, We Have a Problem
In some ways, Vista has received a bad rap, said Laura Didio, a research fellow at Yankee Group, who recently upgraded to Vista SP1.
"Software is an inexact art more than a science still," she noted.
That said, however, Microsoft needs to do a better job on the public relations front to reassure consumers and businesses, she stated.
"You don't get a second chance to make a first impression. This could impact businesses' [decisions] and it may not. You can't judge a service pack only on the feedback from one university and several dozen users," she told TechNewsWorld.
The blame for the issues with the service pack lie equally with Microsoft and its software partners, according to Didio
"It's on Microsoft if and when they do not make their latest software compatible with the most popular drivers, applications and plug-ins that are out there. It's also true that Microsoft can't be expected to have compatibility with every niche market application out there. And some of the smaller third-party ISVs (independent software vendors) do not have the money to do what is necessary to update their products," she continued.
"It's not all Microsoft's fault," Didio stated.
Burden on Microsoft?
However, Gartner's Silver said Microsoft has a bigger share of the blame. It doesn't matter whether a third-party software maker or Microsoft is at fault, he said.
"At the end of the day, it's always Microsoft's problem. They should be able to either get vendors to write their drivers and software correctly, or accommodate for the problems when updating the OS. This all comes back to the issue of Windows being too big and complex," he told TechNewsWorld.
Businesses and consumers who are at the starting point of the upgrade process are in the best position, according to Silver.
"Actually, just beginning the deployment is the best place to be. Do everything you can to be able to deploy Vista with SP1 already installed so you don't need to install it on top. For [organizations] with Vista already installed, they should be testing SP1, but it's always best to hold off a few weeks before deploying the SP," he noted.