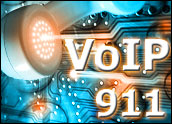 Lawmakers are moving forward with a bill that would offer providers of fast-growing Internet calling services the same access to E-911 service that traditional phone companies have and give them more time to put the emergency service in place.
The legislation, which was approved by the Senate Commerce Committee and is widely expected to pass the full Senate before the holiday break, could also give voice over Internet Protocol (VoIP) providers relief from looming deadlines in Federal Communications Commission (FCC) rules that would have required them to have their emergency calling systems in place by the end of this month.
Many VoIP firms had complained that the FCC rules favored incumbent phone carriers and would cost millions of dollars to comply with, a considerable investment for some of the startups that have begun to make headway in the Web-calling business.
The FCC had given firms until Nov. 28th to put emergency calling systems in place and said that firms that did not meet that deadline would be prohibited from offering voice service to new customers.
The Senate bill would require incumbent phone carriers to open up their E-911 networks to enable calls to be connected directly to dispatchers. That would make standard practice what some carriers have already done on their own — allowing VoIP calls free and unfettered access to their emergency channels that connect directly to local emergency dispatchers.
Injunction Sought
Also yesterday, even as the bill was passing the senate committee, four VoIP providers asked a federal court to issue a 120-day stay on the FCC rules to give firms more time to comply. The action noted that it took traditional phone provides some 10 years to fully implement E-911, which automatically pinpoints a caller's location when they dial for emergency services.
"The FCC simply ignored overwhelming evidence that providers could not possibly comply within 120 days," VoIP wholesaler Nuvio said in the motion seeking a stay. "It gave no weight at all to the nascent stage of the VoIP market, the costs and technical burdens faced by providers in seeking to implement E-911."
The court gave the FCC until next week to respond and said it would rule by Nov. 18th.
Meanwhile, the bill now on its way to the Senate floor would create a four-year phase-in period during which firms that show progress toward E-911 compliance will be able to continue to attract new customers.
The legislation also requires the FCC to take into consideration the "technological and operational feasibility" of implementing E-911 VoIP services, an apparent slap at its past mandates.
It also provides exemptions from liability under state laws unless they are found to be grossly negligent, the same level of protection other phone providers enjoy.
In addition, the legislation requires the Department of Commerce to convert the 911 system to digital technology so that calls would go to a backup dispatcher if the primary local dispatcher can't be reached, as in the case of a major natural disaster.
Co-sponsors of the bill include Democrats Hillary Rodham Clinton of New York and Bill Nelson of Florida as well as Republican Conrad Burns of Montana.
Wins for Both Sides
Telecom analyst Jeff Kagan told TechNewsWorld that the break from FCC deadlines would help smaller VoIP firms that lacked the capital needed to put work-around systems in place in a short period of time. The FCC had already extended the deadline for compliance once, moving the date from August to November.
Kagan said the firm deadlines and threats to cut off users were ill-advised to begin with, and ignored the fact that millions of people have come to rely on VoIP for their phone services.
"In the time since the order was placed by the FCC, VoIP has been gaining steam," he said. "There are too many VoIP users who have cut their traditional phone service for turning off VoIP service to be a valid solution. It might work, but it would make many users very angry at the FCC."
The fact that Congress is poised to step in highlights the fact that the FCC has stuck to its initial solution rather than explore alternatives that could get he same end result.
"While we do need to address the E-911 issues, and while users need to understand the problems, cutting off their phone service is no longer an option," Kagan added.