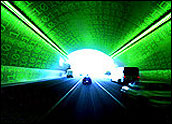 People eat, put on makeup, play with the stereo, and of course, talk on their mobile phones while driving. Why not add e-mail to the list?
A Waterloo, Ontario company has done just that, and Intelligent Mechatronic Systems (IMS) says its iLane device — "the world's first hands-free and eyes-free e-mail solution for in-vehicle use" — is a safe way to do it.
The iLane's voice-based interface alerts drivers to incoming e-mails on their BlackBerry, Palm Treo or other Bluetooth-enabled handheld device, and then reads those e-mails out loud in what the company describes as a "natural sounding voice." Additionally, the device can take commands for composing and forwarding e-mail, and even short message service (SMS) communications.
"iLane is the first and only solution to provide users with complete mobile data connectivity in a manner that focuses on driver safety," said IMS President and CEO Otman Basir.
E-Mail Everywhere
iLane is based on a router-sized device that, when placed onboard a vehicle, can interact with the vehicle's driver and a BlackBerry or other Bluetooth-enabled smart phone, iLane Product Manager Ben Miners told TechNewsWorld.
E-mail can even be prioritized and filtered for spam by users who extend their e-mail rules and preferences to their iLane account, Miner said.
iLane interacts with Bluetooth enabled devices, and can manage meeting requests, phone calls and some e-mail attachments using voice commands alone, IMS said.
Safer Alternative
While some studies show that even the use of hands-free communications devices while driving can be a significant distraction, Miners indicated the iLane is intended for busy executives who need easy access to e-mail when on the road.
"It's a safer alternative to pulling a PDA or smart phone out of your pocket," he said, adding some research shows that one in five U.S. drivers used a handheld or a laptop while they drove in 2005.
IMS did not release pricing for the device, which is reportedly the focus of negotiations with automotive equipment manufacturers and international network carriers.
Voice and Vocabulary
The new iLane may be limited to the niche markets of corporate field workers on the road, and commercial telematics such as trucking, ABI Research Director of Transportation Research Frank Viquez told TechNewsWorld.
While iLane is an onboard device, OnStar works with a central server that may be more easily updated or changed, according to Viquez, who pointed out the significance of the ability to upgrade such rapidly changing telematics technology.
In response to such concerns, Miners acknowledged that iLane's read-back will not always be flawless. He added, however, that users in some specialty fields, such as medical or science, will be able to obtain add-on packages for more advanced text-to-speech capabilities.
Hitting the Gas
With General Motors pledging that all of its vehicles will feature the hands-free voice and e-mail functionality of its OnStar system by 2008, Viquez says the race to put more hands-free technology in cars may be on.
If so, GM's OnStar could be at an immediate disadvantage, in that it relies on a central server, rather than an onboard device like the iLane. Viquez thinks this could prove to be a key difference when it comes to the issue of upgradability, since car technology, also known as telematics, is new and rapidly changing.
Many corporations and organizations presently bar traveling employees from using handheld devices while driving due to liability concerns, but hands-free devices like the iLane may be a solution to this problem for some workers.