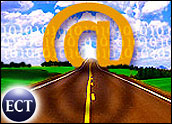 Predictions for the future and realities of the past are being fused together via Internet technology. Increasingly, Web sites and services are popping up that save e-mails for a pre-determined amount of time that a user can send to him or herself in the near or distant future.
While there are a number of sites now providing such services, FutureMe.org is widely recognized as the originator of this e-mail time capsule concept, which has drawn a significant number of users, including some who have made their letters to a later date public on the site.
"FutureMe.org is based on the principle that memories are less accurate than e-mails," say the site's founders, Matt Sly and Jay Patrikios on the site. "We strive for accuracy."
Note to Self
Stressing that their site is not a scheme to collect e-mail addresses for spam and that the future e-mail destination can be changed to accommodate a new address, Sly and Patrikios — who started the service in 2002 — said the idea was to update the old high school or college assignment of writing a letter to one's self in the future for the Internet Age.
While the service is free, FutureMe.org does take supportive donations. The site indicates that nearly 131,000 letters have been sent to the future so far.
Just for Fun
Industry analyst Maurene Caplan Grey, founder and principal analyst of Grey Consulting, told TechNewsWorld although the idea is novel, post-dating e-mails has been possible since electronic mail has been in use.
She likened the future delivery of e-mail to a journal, and said the idea was limited to entertainment, with little practical value.
"It's a fun thing," she said. "You're able to go back and see what you were thinking, and see where you are today. I can look at what I did and it gives me a better explanation of what I'm doing today."
Unique Application
Basex CEO and chief analyst Jonathan Spira told TechNewsWorld the FutureMe.org model puts e-mail in an entirely different light.
"I think it's a very interesting concept because traditionally, e-mail was thought of as being very temporal in nature," he said.
Spira, referring to floppy discs of computing's past, added it may be questionable whether e-mail written today will be readable by tomorrow's technology.
However, the analyst praised FutureMe.org as original and said it does something simply that most e-mails do not.
Spira said that in his view, practical applications of these services do exist, including reminders to one's self to do something at a later time, but the primary use is likely for amusement. "It's basically a fun thing to do," he said.
FutureMe.org has spurred a number of imitators, including a similar service found at Forbes.com.