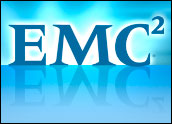 EMC, a maker of information infrastructure technology, launched a new lineup of storage systems and software designed to aid business users of all sizes securely and intelligently store information in a more cost-effective manner. The new systems range from entry-level devices to high-end.
"EMC's level of investment and commitment in developing, testing and delivering new storage technologies is unmatched," said David Donatelli, EMC executive vice president, storage product operations. "We focus our efforts on addressing high priority customer requirements like energy efficiency, security and ease-of-use, and work to incorporate new capabilities across all our product lines.
"One size does not fit all, and we're making sure customers, whether big, medium or small, have the right solution for the right storage job," he continued."
Storage Units, Park Avenue Style
EMC has kicked it up a notch with improvements in performance, security and energy efficiency to its Symmetrix, Celerra, Centera and CLARiiON lines of storage systems. Chief among the lines' updates are the usage of 750 GB serial ATA (SATA) II drives, which the company said will reduce energy costs in addition to providing increased storage capacity.
While the new technologies EMC touted in its release Monday are not "so brand spanking new," Benjamin Woo, research vice president for IDC, told TechNewsWorld, the lines do include "a lot of the new technologies from EMC's perspective.
"EMC is now able to provide a much broader spectrum of solutions to their customers," he stated.
Most notable, Woo, said, was the announcement of the Symmetrix DMX-4 series of high-end storage systems. The flagship product features an end-to-end 4 gigabit per second (GB/s) architecture as well as a new Fibre Channel point-to-point back-end for higher levels of reliability. The line also boasts the first high-end arrays to support both high speed Fibre Channel disk drives and new low-cost 750 GB SATA II disk drives that offer an energy consumption reduction of up to 33 percent.
On the software side, the company said, overall Symmetrix performance will improve by as much as 30 percent, with local data replication up to 10 times faster using EMC TimeFinder software. Using EMC Symmetrix Remote Data Facility (SRDF) will be up to 33 percent faster, while replication distances will double.
"The Symmetrix family has been around for many, many years and is something like 20 years old. The DMX extends what they already have in the upper echelons of their product portfolio," Woo noted.
Just Entering
The entry-level Celerra NS20 and the larger Celerra NS40 are easily deployable in network attached storage (NAS) and storage area network (SAN) environments using either iSCSI or Fibre Channel connectivity. Celerra Startup Assistant, new software from EMC, will take the two systems from power up to production in 15 minutes and enhance the machines' ease of use and manageability. The Celerra line will also support new 750 GB SATA II disk drives.
Although EMC has not previously had a strong connection with the SMB end of the market, Woo believes that the Celerra line, in particular the NS20, could re-energize the company's status in that segment.
"The Celerra NS20 provides [EMC] with a great entry point into smaller businesses. Now they too will have a product that customers will be enamored of. For mid-range customers, the functionality and the feature set have now been caught up," Woo said.
EMC Rainfinity appliance for file archiving is also intended for the entry-level market. The Rainfinity File Management Appliance (FMA) enables organizations to easily and cost-effectively implement policy-based file management and automatically move and retrieve files across the entire NAS infrastructure, the company said.
The appliance works with EMC Cellra, other NAS systems and EMC Centera content-addressed storage (CAS) systems. EMC customers can also upgrade from the FMA to the company's full Rainfinity Global File Virtualization solution.
"That will be important from an archiving and overall data management perspective," Woo said.
Next Generation Storage
EMC also rolled out a new generation of its award-winning EMC Centera CAS system. Centera Generation 4 LP (low power) nodes have been specially designed with low-power processors and chipsets, adaptive cooling and more efficient power supplies that reduce energy consumption and increase storage capacity per node by about 50 percent using the new 750 GB SATA disk drives.
For enterprises, the result is a reduction in power and cooling requirements of 67 percent per terabyte, according to EMC. The company has also added new security features to its CentraStar storage operating environment to provide improved levels of authentication, system logging and auditing capabilities. The software is backwards compatible with previous Centera generations and is offered as a free upgrade to customers holding maintenance contracts. Generation 4 LP nodes can also be incorporated into existing Centera systems.
"EMC is really trying to take this concept of lower power per terabyte out for a run," Woo opined. "It's very unique and a very aggressive marketing tool because they are offering bigger drives. And if you're offering bigger drives in the same space, obviously you're going to have more power consumption per terabyte. But what is interesting is that EMC is taking this green concept to a new level. This is the first time one of the major manufacturers takes the green marketing route."
The latest iteration of the CLARiiON Flare storage operating environment, available as a free upgrade to maintenance plan customers, incorporates even greater functionality with the addition of new built-in security capabilities. They offer users improved access control and expanded compliance and audit features. CLARiiON CX3 iSCSI capabilities have also been kicked up a notch to provide support for native iSCSI remote replication for cost-effective business continuity.
The new operating system can be implemented on all CLARiiON CX3 systems as well as previous generation CX300, CX500 and CX700 systems. In addition, it enables RAID 6 protection and active/active failover that supports the CLARiion CX3 family's "5 nines" availability, the company stated. As with EMCs other offerings, CLARiiON systems will also incorporate new 750 GB SATA II disk drives.