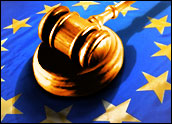 Tough week for Microsoft.
After Denmark announced it was seeking US$1 billion in back taxes from Microsoft, the tech giant was hit with a $731 million fine from the European Union.
The fine is for Microsoft's failure to promote a range of Web browsers, not just Internet Explorer.
Complaints about Microsoft's favoritism toward IE prompted the EU's 2009 decision that required the inclusion of competitor's browsers in Windows software. Microsoft did just that, introducing a "Browser Choice Screen" in March 2010. Alas, the company dropped that feature in a Windows 7 update, famously claiming a "technical error" was to blame.
Microsoft apologized to the EU for its lack of compliance, but that apparently wasn't enough.
The fine against Microsoft is being dubbed a message to other tech companies. Indeed, EU Competition Commissioner, Joaquin Almunia said he wanted to deter other companies from the "temptation" to back out on agreements.
According to EU laws, Microsoft could have been subjected to a fine of 10 percent of its annual global revenue, which would have been more than $7 billion. Not that Microsoft is likely to consider a $731 million fine a blessing, but it equals only 1 percent of Microsoft's 2012 fiscal-year revenues.
Microsoft has not yet said whether it will appeal. However, in the name of not antagonizing regulators that already seem irked — Microsoft last year had to pay $1 billion to the EU after it lost an appeal — it is expected to accept the ruling.
Google's Ivory, Whale Ads Draw Ire
The Environmental Investigation Agency is asking Google to remove thousands of ads that peddle products made from endangered elephants and whales.
The EIA said that it has written to Google CEO Larry Page, asking for the removal of some 1,500 ads promoting whale products and 10,000 related to elephant ivory products. The ads reportedly appear on Google's Japanese shopping site.
Google has policies prohibiting the promotion of certain wildlife products, such as those from whales, dolphins and elephants. EIA's president said that is it "shocking" that Google is failing to enforce its policies.
A Google spokesperson said that Google indeed removes ads that violate its policies as the company becomes aware of them.
EIA says the elephant ivory ads were mostly for "hanko" Japanese name seals, which are traditionally made from ivory. In recent years, companies have started using composites or certain types of stones, but there still appears to be a demand for ivory.
The appeal coincides with the Convention on International Trade in Endangered Species, a conference being held in Bangkok.[Source: AFP]
France Sees Uptick in Piracy Warnings
France released data showing that it sent out more than 80,000 "first strike" piracy warnings in January 2013 — about double the amount issued in January 2012.
France's "three strikes" systems send warnings to punishe Internet users who engage in piracy. Authorities are issuing more and more warnings, following up on threats made in January.
However, records suggest that "first strike" warnings do not necessarily correlate with additional warnings. For instance, while there was a year-to-year doubling of first strike warnings, second strikes only went up 14 percent.
[Source: Torrent Freak]