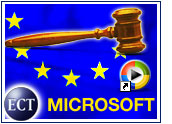 In an accusation reminiscent of Microsoft's U.S. antitrust case — which dealt with the company's bundling of the Internet Explorer Web browser with the Windows operating system — the European Commission has signaled it might penalize Microsoft or force it to separate its Windows Media Player from its operating system for antitrust violations.
According to a draft resolution from regulators with the European Commission, Microsoft violated antitrust rules by including Media Player as part of the operating system and providing insufficient information for other software makers to create Microsoft-compatible products.
The Commission is expected to deliver a decision on the matters later this month, but is also involved in a squabble with the Redmond, Washington, software company over separate contractual changes made by Microsoft in response to anticompetitive concerns — that Microsoft's contracts have limited the legal recourse of companies that do business with Microsoft.
Not Backing Down
Microsoft spokesperson Jim Desler told TechNewsWorld that there were clause changes in the contracts made "across the board" and shared with original equipment manufacturers (OEMs) last month, but declined to comment on an EC representative's reported claim that Microsoft agreed to make the contract changes four years ago.
Regardless of that issue, the European Union and Microsoft have long been at odds over the software company's business practices. Yankee Group senior analyst Laura DiDio said Microsoft might not be capable of satisfying the European regulators who are now targeting Windows Media Player.
"The European Commission is not backing down," DiDio told TechNewsWorld. "It doesn't look like Microsoft can do anything to satisfy them. The European Union may think they can strip out the media player, making it easier for competing media players and leveling the playing field in one fell swoop."
Long Been in Windows
When asked about the EC draft resolution and criticisms over Windows Media Player's integration into Windows, Microsoft's Desler said media playback functionality has been a part of the operating system as far back as 1991.
"All operating systems have media playback technologies," Desler said.
The Microsoft representative also said the company has long maintained that it provides information that enables interoperability among media players, referring to the "prevalence of heterogeneous environments" as a demonstration that interoperability exists.
"We have provided additional information through the U.S. consent decree," Desler added, referring to the settled U.S. antitrust case. "It's important we didn't have an agreement that provides so much information available as to enable a clone or confiscation of our intellectual property."
Already Set
Despite the company's contentions, DiDio said Microsoft is likely to face some penalty — financially or by being forced to include competing media players such as Real Player or Apple's QuickTime player — as the Commission has already indicated its leanings.
"The European Union is bent on proving this point and making Microsoft pay," DiDio said. "They already have a resolution drawn up. They want Microsoft to be found guilty."
DiDio did add, however, that Microsoft is sure to resist changing its strategy too much, particularly for the European Commission and particularly with Media Player.
"At a certain point, if you've backed Microsoft up against a wall, they will not back down," DiDio said. "They'll appeal, appeal, appeal. They're not going to turn their strategy for Media Player upside down for the European Commission."
Role of Media
DiDio said that with three-quarters of a billion dollars spent on readying its Windows Media Player, Microsoft does have a lot at stake in the fate of the technololgy, which Microsoft's Bill Gates has called a new market and an important part of the company's strategy.
"[The EU] could give them fines and this could have a big impact on Longhorn as well," DiDio said, referring to Microsoft's next-generation operating system that is due to be released in about two years.
DiDio also indicated that in response to any EU action, Microsoft can look to other sales methods — special promotions or on the Internet — to keep Windows Media Player in the game.
"Microsoft is not out of options," DiDio said. "They have other means of selling this media player."