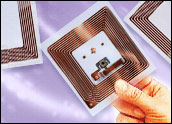 Europe is feeling pressure to boost its efforts to speed the global adoption of radio frequency identification (RFID), a wireless technology already used by U.S. retail giant Wal-Mart for much of its merchandise and shipping operations.
European Commission officials indicated at the CeBIT technology conference in Hannover, Germany, this week that they plan to undertake a comprehensive study on the use of RFID, which is used not only commercially in the U.S., but is also an important part of some new passports in America.
The European government and industry leaders stressed the need to balance privacy and the potential for misuse with the need to adopt RFID across industry to be competitive in the world.
Also at CeBIT, European tech giant Deutsche Telecom announced collaboration with chip maker Intel on RFID technology and services for Europe.
Lagging Behind
While Europe lags behind the U.S. in terms of its embrace of RFID — a worrisome technology to privacy watchdogs — the U.S. is not speeding through its RFID adoption either, according to IDC Research Director Shiv Bakhshi.
"It has been at the cusp of taking off for the last two or three years, but we haven't seen a major push," he said.
Nevertheless, for all regions of the world, RFID will become increasingly important in terms of security and being able to keep track of shipping, Bakshi told TechNewsWorld.
"As you see more and more security issues arise, and as you see more and more need to control shipments of various kinds, assets of different kinds, it becomes critically important," he explained.
The issues of privacy and security represent major hurdles for RFID around the world, but Bakshi believes Europe is on the right track. As governments seek to ensure RFID interoperability and standards around the globe, however, there is likely to be some privacy price.
"The more you seek to control, from a nation's perspective, RFID tracking becomes critical," he said. "The whole point of social order has a flipside of individual loss of privacy." As such, he said, much of the drama surrounding RFID adoption is of a political, not technical, nature.
Euro Protections
The main difference between the U.S. and Europe on the matter of RFID and privacy is that European law already governs what information can or cannot be collected on individuals, Electronic Privacy Information Center (EPIC) Director of the International Privacy Project Cedric Laurant told TechNewsWorld.
"Europe already legislated several years ago about privacy issues arising from the collection of personal data," he said. "The Europeans have already brought a regulatory framework, and they have to work within that. In the U.S., there isn't such a broad privacy framework."
Instead, Laurant explained, the rollout of RFID in the U.S. has been left to industry, which may certainly talk about privacy, but may also favor its own interests over the issue.