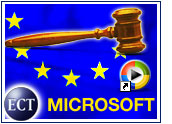 Referring to new evidence in its investigation of Microsoft's anticompetitive practices, the European Union's commission in Washington, D.C., has offered the software company one last opportunity to respond before pursuing remedies.
The European Commission, which has conducted an antitrust probe of Microsoft for about five years, said new evidence from consumers, suppliers and competitors indicates the software company is stifling competition by denying interoperability in the low-end server market and by tying Windows Media Player to the Windows operating system.
In a statement, EU Competition Commissioner Mario Monti said the body is giving Microsoft a "last opportunity" to comment before conclusion of the case, which is likely to result in such remedies as code disclosure obligations and untying the media player from the operating system.
Yankee Group senior analyst Laura DiDio, who said she views the EU actions as part of a larger anti-Microsoft movement, told TechNewsWorld that the European Commission and the software company are unlikely to find common ground.
"It's a case of unstoppable force meets immovable object," DiDio said. "I'm unsure what, if anything, Microsoft could do to satisfy [the European Union] that Microsoft would see as viable."
Additional Evidence
The European Commission Delegation in Washington, D.C., said additional evidence it gathered "confirms and in many respects bolsters" earlier findings about Microsoft's anticompetitive behavior.
"In light of this evidence, the Commission's preliminary conclusion is that Microsoft's abuses are still ongoing," said a statement from the Commission.
The Commission reported contact with a cross-section of small, medium and large companies, which were queried on whether interoperability considerations and nondisclosures from Microsoft were a factor in purchasing choices.
"An overwhelming majority of customers responding to this market inquiry highlighted that Microsoft's nondisclosure of interface information — necessary for competing servers to talk properly with Windows PCs and servers — did indeed artificially alter their choice in favor of Microsoft's server products," the EU statement said. "This behavior is detrimental to competition on the merits."
DiDio said the reference to new evidence is significant for Microsoft, which already has made concessions, including code disclosures. However, she noted, the software company is unlikely to do everything the Commission is requesting.
Last Chance
While the Commission put forth remedies that include code disclosures, untying the media player and a "must-carry provision" that covers other media players, it is still giving Microsoft a chance to respond to the accusations.
"At this stage, Microsoft is able to take last-ditch efforts to comment on the Statement of Objections," EC Washington D.C. Delegation spokesperson Wilfried Schneider told TechNewsWorld. "They can now comment and say, 'This is wrong — we're doing something about it,' or, 'Here is what we plan to remedy.'"
Although he cautioned that he could provide no definite timelines, Schneider said the Commission's case is in the final stages and could be concluded by the end of 2003.
Taking It Seriously
Despite surviving findings of monopolistic practices with relatively minor changes to its software and procedures in the U.S. antitrust case, Microsoft is still working toward resolution with the European Union, Microsoft company spokesperson Jim Desler told TechNewsWorld.
"We take this investigation very seriously and continue to maintain a dialogue that will allow a positive resolution to the Commission's concerns," Desler said.
For her part, DiDio said the case with the Commission, which likely views the U.S. outcome as a slap on the wrist, is critical to Microsoft's business with European accounts.
Wave Against Windows
DiDio also said the Commission's action highlights growing anti-Microsoft sentiment and increasing industry support for the open-source movement, particularly among European governments.
"There has been a groundswell of support for the open-source market by the government agencies," DiDio noted. "This is all part of the same wave of anti-Microsoft sentiment, and the wave hasn't hit the beach yet. I think it's still cresting."
She referred to the city of Munich, Germany, which chose to go with a Linux deployment despite an attractive offer from Microsoft CEO Steve Ballmer.