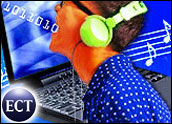 A former MTV executive is hoping that music will become the killer application for social networking, launching a site that lets users interact with others based on their musical tastes.
MOG.com, which ex-MTV marketing executive David Hyman created last year with $1.4 million in venture funding, launched in beta form Tuesday. The site is being billed as a MySpace alternative for devoted music fans.
Connecting Through Music
The site is free to use, but requires the download of an application known on MOG-O-MATIC. The program catalogs the music on a user's computer hard drive, tracks what they play the most and what new songs are added to their computers and transferred to their iPods or other portable music devices.
That data is then tracked and analyzed and made available on a user's MOG Web page, which can be viewed by anyone. MOG also encourages users to blog about their musical selections.
Hyman, the firm's founder and CEO, said "bleeding-edge technology" and "ridiculously easy tools" will enable users to show "the world what you're about musically."
That in turn, will enable stronger connections with others who share similar musical tastes, he said. "We use all of MOG's smarts to point you in the direction of people like you, based on the music you're into."
Some see the music-focused site as the next wave of social networking, with such specialty sites offering a way for connections to be made faster than on general interest sites. Others see the social networking niche as ripe for a shakeout, with far too many offerings all aimed at largely the same demographic of young users.
Business, Model
At least for now, MOG will not use the data it collects to make suggestions for users on what new music they may be interested in purchasing. The site does, however, feature links to Apple's iTunes Music Store and the music store of e-tailer Amazon.com.
The site will also offer users the ability to see all of another user's music collection, something Hyman said has not been possible online since the original Napster, which was shut down for legal reasons.
"We see our technology as an enabler," Hyman said, adding that the site will be focused primarily on its users. For instance, members will be able to edit their collections as they see fit.
The idea is to tap into music to connect people and connections among people to drive music sales, Hyman said.
Others have seen the same opportunity. For instance, Apple's music store features extensive song lists and other recommendations from users. Amazon has also used the peer-to-peer approach to enable recommendations and reviews for a host of products, including music.
Fad or Fashion?
Gartner analyst Michael McGuire said as much as a quarter of all online music purchases will be driven by peer-to-peer recommendations by 2010, representing hundreds of millions in sales as more music buying shifts to the Web.
McGuire said that the sharing of music tastes will come in various forms, including playlist publication — such as on iTunes and Amazon — and through "ranking tools built into online music stores or external sites with links to stores."
Being a niche player may give MOG a leg up in the bid to become profitable, said Outsell analyst Chuck Richard.
"The sheer volume of social networking sites is going to make it difficult for consumers to sort through the clutter and for advertisers to know where to funnel their marketing dollars," he said. Targeting a vertical category or niche may help distinguish sites, especially when there is a direct link to e-commerce. However, users of social networking sites are wary of being pushed too hard to become consumers. "It has to be truly viral and that can be a tricky thing to try to control."