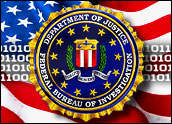 Universities and digital freedom organizations are filing appeals to the Federal Communications Commission's call for phone-system wiretapping on the Internet, complaining of the expense of compliance and negative effect on innovation.
A requirement that universities, carriers and other Internet service companies build spying capabilities into their networks for law enforcement purposes — enforced by the FCC and urged on by the Federal Bureau of Investigation — extend what is known as the Communications Assitance for Law Enforcement Act (CALEA) wiretapping rules to the Internet.
The universities, which filed an appeal of the requirements in federal court this week, complain that the cost of such re-engineering and re-architecturing would run into the billions and cause undue burden on them. Other groups complain that the rules, based on the decade-old CALEA, could stifle innovation if all Internet communication technologies must be reviewed and approved by the government.
"The FBI is asking the FCC to require every voice-carrying technology, which will eventually be all technology, to be reviewed and approved by the FBI before a single user tries the technology," Center for Democracy and Technology staff counsel John Moore told TechNewsWorld. "Our broad concern is the harm to innovation."
Covering All Calls
The CALEA controversy centers on an FCC order issued last August, when FCC chairman Kevin Martin highlighted the need to respond to law enforcement needs by extending CALEA's reach to email and other Internet communication, including voice over Internet protocol (VoIP).
"These services have proliferated in recent years, and they continue to grow at exponential rates," Martin said in a statement earlier this year. "Given this, it is critical to our nation's security that VoIP and broadband Internet access providers have CALEA obligations."
There was however, acknowledgment that the order would likely bring legal challenges, which are expected to grow beyond the university-led appeal filed this week.
New Application of Law
Electronic Froniter Foundation staff attorney Kurt Opsahl told TechNewsWorld in August that the FCC had failed to show any justification for expanding CALEA, and predicted lawsuits as a result.
"At this point, [the issue] is really those who want to expand [CALEA] should show why," he said. "Not those concerned about privacy having to argue why not."
Opsahl indicated the FCC's order was "contrary to the CALEA statute," adding that the rule would endanger privacy and stifle innovation.
What's the Problem?
CDT's Morris, who reported that his organization was filing a similar appeal in federal court, said that because CALEA was designed for the closed, tightly controlled telephone system of yesterday, it is a poor fit for today's Internet.
"The whole technical concept approach that technology has taken on the Internet is not conducive to central review by a slow-moving, not technically savvy law enforcement organization," he said. "Furthermore, law enforcement has not once identified a problem they've encountered."
Morris also said that, in the long run, CALEA constraints on the Internet could be harmful to law enforcement, which will be left behind by more technically sophisticated criminals capable of developing their own technologies.
"It's technically trivial for a criminal organization to develop its own VoIP system," he said.
Morris also called on Congress to fund more meaningful training and education for law enforcement and the Internet in order for them to keep pace.
"Congress needs to appropriate funds for law enforcement to learn enough about the Internet not to be intimidated by it," he said.