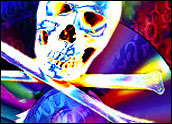 Move over, parental warnings for explicit lyrics and violence, there's something more important: preventing piracy.
The Federal Bureau of Investigation has announced with intellectual property purveyors — including the Recording Industry Association of America (RIAA), the Motion Picture Association of America (MPAA) and the Entertainment Software Association (ESA) — a new antipiracy seal for digital media ranging from music CDs and movie DVDs to games and office software.
"You'll be seeing a lot of it in the days to come," the FBI said of the red-lettered warning seal that is described as voluntary and government-sanctioned. "Not just on the warning screens of videos and DVDs, but on the millions and millions of CDs, games, software packages and other digital media that are produced each year."
ESA senior vice president of intellectual property enforcement Ric Hirsch told TechNewsWorld that although many details have yet to be finalized — such as the size and placement of the FBI warning seal — the new label is key to educating and reminding people that copying and distributing copyrighted material is illegal.
"An educational message of this kind is in no way heavy-handed," Hirsch said. "It's just making people aware of the rights of those who created [copyrighted content] and that the FBI stands behind to enforce those rights."
G-Man Stamp
As it blamed digital piracy for US$3 billion in losses last year, the FBI said its new seal — which emblazons "FBI Anti-Piracy Warning" across an agency shield — is meant to combat theft of copyrighted material.
The FBI, which warned peer-to-peer (P2P) system users about worms and other malware from "misanthropic hackers," said it also is working with different industries and other law enforcement agencies to crack down on piracy.
"Through working partnerships with other law enforcement entities, the Department of Justice and industry, we will continue to devote significant resources in pursuit of those who steal copyright-protected data," said FBI cyber division assistant director Jana Monroe.
Marked by the Man
While there was industry and government agreement that the seal would serve to educate users about the illegality of freely sharing files, the antipiracy seal also might serve to ward off a potential audience wary of both entities.
For instance, Yankee Group senior analyst Mike Goodman told TechNewsWorld that the endorsement of the RIAA on a legitimate music download service was anything but beneficial.
"Users are going to say the authority figures endorsed this one," Goodman said.
Time will tell whether there is any backlash over the FBI seal from music, movie and gaming fans, but through sites and organizations such as boycott-riaa.com, many have resisted industry efforts to curtail piracy, particularly the RIAA's campaign to sue individual users alleged to have traded copyrighted music files online.
Tactics To Spread?
For its part, the RIAA — which touts the success of its campaign of lawsuits against thousands of accused file-traders — called the FBI seal a critical tool to inform users.
"As this seal attests, these are serious crimes with serious consequences — including federal prosecution — if the wrong choices are made about copying or uploading music without permission," RIAA executive vice president of antipiracy Brad Buckles said.
However, lawmakers such as Sen. Norm Coleman (R-Minnesota) have been critical of the RIAA's use of the courts, arguing it should not be the industry's primary means of protecting its intellectual property.
In response to concerns that the FBI seal might be viewed as an endorsement of the RIAA's legal tactics, FBI spokesperson Bill Carter told TechNewsWorld that it is not. "It has to do with piracy and with illegally using proprietary information," Carter said. "I don't think it's meant to be any kind of endorsement of any legal tactics of the organizations involved."
The ESA's Hirsch said that although the gaming industry is not ready to engage in the same kind of pursuit and prosecution of users who are alleged to be illegally copying or trading games, it does not mean such an approach will be ruled out in the future.
"I think, as an industry where products are being pirated, it certainly behooves us to look at the various strategies out there," Hirsch said.